There's nothing like getting away from it all for a week of luxury, so you can imagine our excitement when we discovered that Thomson have opened a new (and affordable) five star all-inclusive spa resort in sunny Turkey.
Sensatori is a modern palatial paradise cleverly separated into adult-only and child-friendly sections, so couples on a romantic retreat won't be slapped in the face with a lilo and arm bands.
Situated in Side on the Mediterranean coast of Turkey, the weather in this surprisingly green resort is gloriously warm allowing you to give your cardigans a well-earned rest. Blue skies are paired with dazzlingly blue water, sandy beaches and infinity pools.
Feeling tempted? Take a look at why we loved Sensatori Resort Turkey and the bazaars, white water rapids and food of Antalya...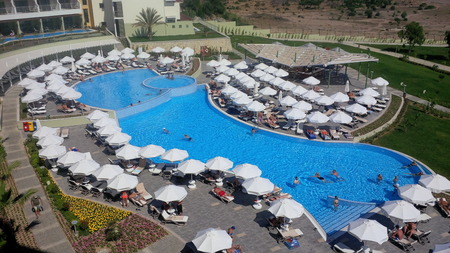 Why Go?
If you're looking for a chilled out retreat away from maddening city life this is the hotel for you. Sensatori Turkey is part of a range of hotels designed to give holidaymakers an extra splash of luxury; from top quality food and spa services, to evening entertainment and day excursions.
After a four hour flight and an hour's transfer you'll be pulling up to the marble and glass entrance way. Before you escape to your state of the art room (complete with flat screen TV, rain shower and a private balcony) you'll need to pick up a cocktail from one of the many hotel bars. The all-inclusive status means you're going to have delicious mojitos and midnight Bailey's tipples coming out of your ears - trust us, we drank more than our fair share!
But the best part of Sensatori has to be the in-house Viola Spa with a traditional Turkish Hammam. Okay, so if you're a typical Brit, the idea of a man in a towel scrubbing you with hot soapy water will seem absurd, but our skin has never felt better - especially after the 50 minute massage that followed. The whole thing takes about 80 minutes and costs an additional 85€.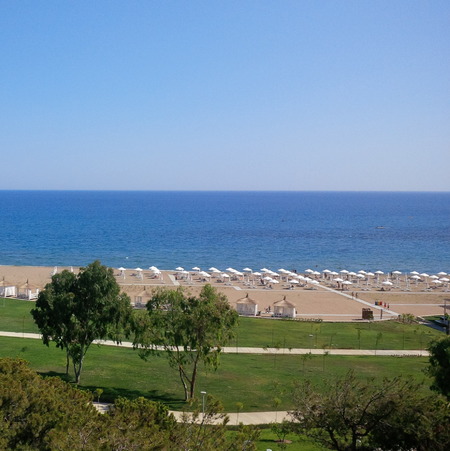 Sun, Sea and Side
All summer holidays should feature sun, sea and sand, but Sensatori also has Side...with us so far? After spending your days lounging on the private beach (with a beach café for more drinks and snacks) or hanging around the infinity pool, you can nab a taxi and head into Side.
This little town on the water's edge is packed with bars, fancy open-air cocktail lounges and traditional restaurants, plus a few gift shops to stock up on Turkish delight.
If you get chance, head to the Temple of Apollo, located at the end of Side's peninsula, to watch the sun-set through these 2,000-year-old columns. In fact, the whole town is surrounded by stunning historical ruins that tourists are free to wander around. There are three temples, an aqueduct, and a nymphaeum - a grotto with a natural water supply. Sweet.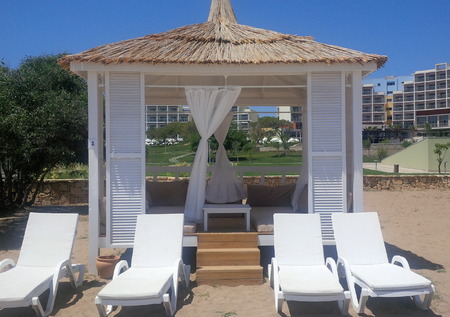 Eat
Sensatori Turkey is focussed on food, which means serious foodies will be in their own little version of heaven. There's a buffet restaurant serving breakfast (everything from a traditional fry-up to continental breakfast, fresh fruit, yoghurt, croissants and more), lunch and dinner. The menu changes every night, which means you'll never get bored of eating the same old thing.
We were particularly impressed with the three a la carte restaurants on site, that come under the all-inclusive umbrella. Think sit down dinners with waiter service and beautifully presented plates of chicken, tender steak and lamb chops. There's also a traditional Turkish restaurant, giving diners the ultimate mezze platter of hot flat breads, hummus, roasted aubergines and spicy chilli dips. Delicious.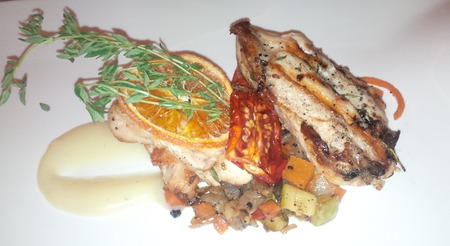 Drink
In a fashionable twist, hat designer to the stars Philip Treacy has designed the Butterfly Bar, a stylish bold print, all-inclusive cocktail bar on site. It's the perfect place to wind down after a heavy meal before hitting the outdoor auditorium to watch live music. If you're heading out into Side, make a beeline for KARMA - a stylish outdoor cocktail bar with live DJs. Perfect for those who need a bit of extra excitement when the sun goes down.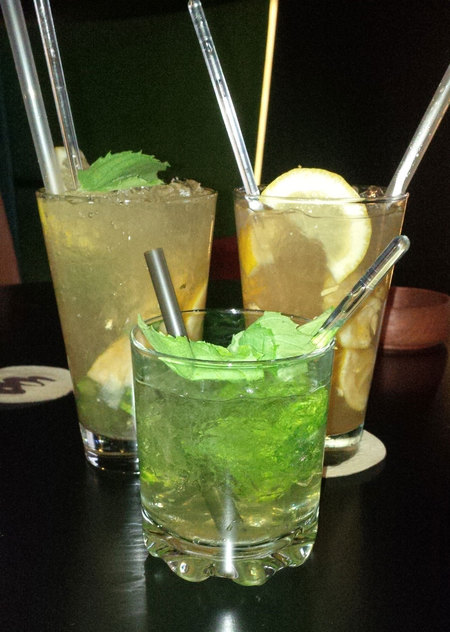 Explore
You might be tempted to spend every single day by the pool sipping on piña coladas and chowing down on free ice-cream, but there's a lot more to discover outside of Sensatori. Book yourself a guide and head to the mountains and canyons of Antalya for some eagle spotting, white water rafting and hiking.
We recommend taking a trip to the Manavgat waterfall and market, starting at the Selale Falls on the Manavgat River. Known as the 'Little Falls' these fast flowing waters crash down a ridge and make for some amazing Kodak moments. Once you've filled your memory card, head to the bazaar that's overflowing with gifts, trinkets, leather goods and a few cheeky fakes...just be prepared to haggle!
If you have chance, book tickets for 'Fire of Anatolia', a traditional Turkish dance show that's a little bit like a combination of Irish dancing and gymnastics. You'll find yourself seated next to dedicated Turkish fans watching as a 100-strong cast reveal the history of Anatolia with a few ninja moves thrown in - it's weird, but kinda' ace.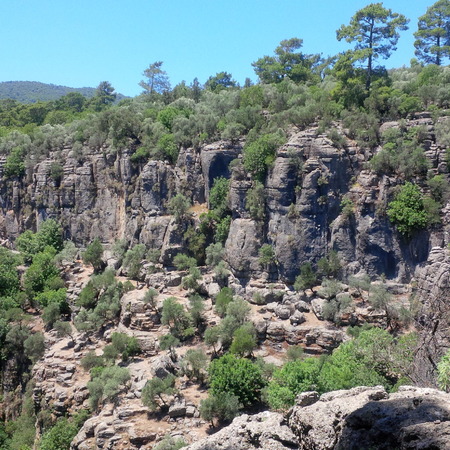 The Facts
For one week in peak season Thomson offers a seven night Sensatori holiday on an all-inclusive board basis, from £1049 per person. Two weeks in peak season costs from £1740 per person. In low season one week costs £885 and two costs £1309 per person.
To find out more about this holiday or to book visit your local Thomson travel shop, thomson.co.uk or call 0871 230 2555.
What do you think?
HOW TO HANDLE AN AIRPORT DELAY LIKE LITTLE MIX
ARE YOU A TV TOURIST?
MIRANDA KERR'S INFLIGHT PACKING ESSENTIALS
THE BEST PLACES FOR A STAYCATION THIS SUMMER