1. The way to a man's heart is through his stomach.
2. Italians make the best lovers.
If both these statements are true and you're looking to ensconce yourself in your partner's affections forever, you could do a lot worse than booking yourselves into Villa San Michele for a few days of authentic Italian instruction in the arts of food and love.
Perched in the Tuscan hillside above Florence about 15 minutes from the centre, Villa San Michele is so achingly beautiful that it literally drew gasps as we approached up the winding, blossom-scented driveway.
A former monastery whose façade is said to have been designed by Michelangelo, the villa is currently celebrating its 600th birthday, under the stewardship of the prestigious Orient-Express Group.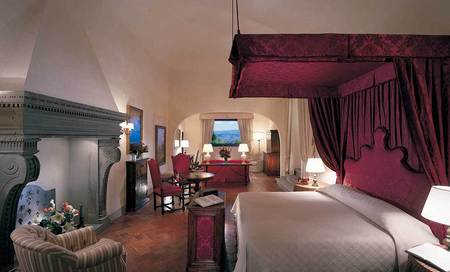 Stay
Our suite - the Michelangelo, both the largest and most romantic - was the epitome of medieval luxury, complete with canopied bed, carved stone fireplace, antique furniture and captivating views of Florence and the Arno valley. Once the monastery's library, it became Napoleon's Florentine headquarters. We can see why he liked it; the bathroom alone was so big that a map wouldn't have gone amiss and you could easily have bathed a battalion in the oversized bathtub.
Breakfast was a lavish affair (we counted at least 12 different types of jam so you can imagine how many breads/pastries/meats/cheeses/fruits there were) but we exercised restraint and paced ourselves in anticipation of what was to follow.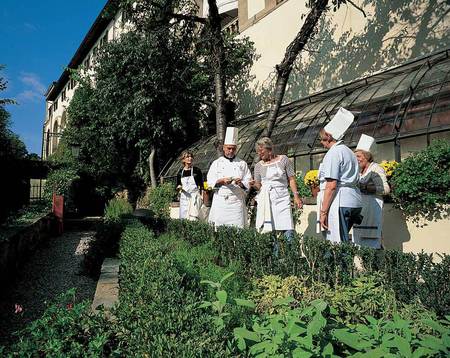 The food of love
We were booked in to join a cookery class called 'Symphony of Pasta', in which we learned how to create two spectacular variations plus a pudding in the space of a single morning.
The school itself is housed in the villa's former greenhouse, which can make it a little toasty when the sun is beating down and all the burners are on. Thankfully, however, there's a steady supply of Prosecco on hand to keep you suitably refreshed as you get to grips with Italy's most famous export.
The course was led by twinkly-eyed Executive Chef Attilio Di Fabrizio, who has been cooking at Villa San Michele for almost 30 years and is something of a legend on Italy's gastronomy scene.
First up was whole-grain pappardelle with herb butter and sheep's cheese, which involved grinding our own flour before mastering the intricacies of rolling and shaping pasta. Next was hand-made gnocchi with fresh tomato, basil and garlic sauce which was, by common consensus, the outstanding dish of the day. As a testament to both how straightforward and delicious this was, we've already made it again having barely been home a week.
Finally, Tiramisu. If, like us, you've become accustomed to the synthetic supermarket version, proper Tiramisu comes as something of a revelation. Atillio also advised that replacing some of the mascarpone with whisked egg whites lightens the dish and shaves off a good hundred or so calories. Helpful, given our choice of evening attire was rather unforgiving.
We tasted small portions of each dish as we went along, but the extra was whisked away and served more formally at lunch on the villa's stunning terrace overlooking Florence. It was a convivial affair as we ate with our fellow students (cue plenty of banter re: whose misshapen gnocchi was whose) and washed everything down with some exceptional local vino.
After lunch we had a few hours to stroll around the pristine gardens and splash about in the pool in order to work up an appetite for dinner in the hotel's famed restaurant.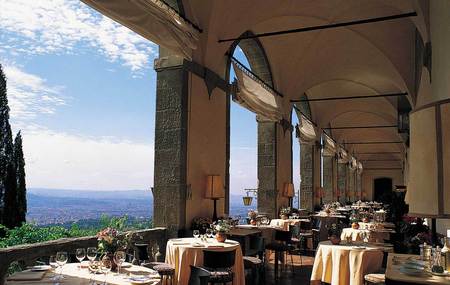 Dining in style
Stepping onto La Loggia's grand terrace is like stepping onto the set of a film from a bygone era. A tuxedoed pianist tinkles the ivories as the impossibly glamorous clientele sip Negronis and watch the ochre sun dip behind the horizon. Part Merchant Ivory, part Great Gatsby, it came as no surprise to learn that Carey Mulligan and Marcus Mumford honeymooned here – it's the stuff of which Hollywood dreams are made.
The food somewhat eclipsed our earlier culinary creations, for impressive as they were, they couldn't really hold a candle to the chef's own efforts. Warm blue lobster salad, pasta with duck ragout, medallions of turbot with porcini, fillet of beef with Tuscan beans, chocolate fondant with salted caramel – Attilio's art is part cooking and part alchemy, transforming as he does the simplest of ingredients into something spectacular.
In such a romantic setting, we practically had to sit on our hands just to stop ourselves from proposing to each other. This wasn't helped by housekeeping's rather touching insistence on spelling out romantic messages in rose petals on our bed each evening either.
But if the urge does overcome you, Villa San Michele can oblige with a private helicopter flight over Florence and can even arrange for "Will you marry me?" to be spelled out across the Chianti countryside. That's just one of several bespoke excursions they offer; it's the kind of place where literally nothing is too much trouble in pursuit of love.
Sadly, we left without fiancés, but with wonderful memories and a repertoire of recipes guaranteed to make even the most unsentimental of lovers go weak at the knees. A tiramisu that packs a punch like a bow from Cupid's arrow? That's amore.
The Lowdown
Rooms start from around 650 Euros per night, and cookery courses range from 200 - 300 Euros per day.
For more information visit
www.villasanmichele.com
or call +39 055 567 8200.
DOWNTON ABBEY-INSPIRED WEEKEND BREAKS
SAMUEL L. JACKSON HITS OKTOBERFEST IN LEDERHOSEN
FLIGHT GROUNDED BY SNAKE ON THE PLANE