There isn't an expectant mother out there who isn't deserving of a babymoon during the
last trimester of pregnancy
. The morning sickness is (in theory) behind you and only a few weeks away is the arrival of your little bundle who you won't be going on holiday without for, ooh, the next 18 years or so.
So at 32 weeks pregnant I need no encouragement to check myself and the husband into Bailiffscourt Hotel & Spa in Climping, West Sussex. After all, if anyone needs to be pampered it's a woman plagued with heartburn and sporting
maternity jeans
that resemble the sail of a ship.
And turning into the long drive, it was obvious we'd come to the right place. A bewitching homestead, the hotel is made up of several medieval-style buildings – including a small 13th century chapel – enveloped by 32 acres of rolling countryside and parkland. Once over the threshold, we continue to be charmed by the oak beams,
welcoming open fires
and beautiful tapestries draped from the walls.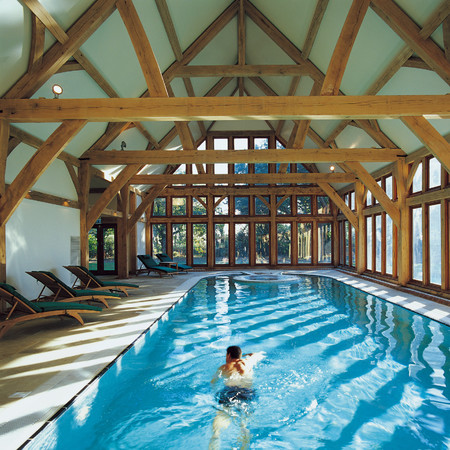 The spa
Whilst it's difficult to drag ourselves away from the sumptuous room, complete with a four-poster bed and (even better)
home-made shortbread
, we don't delay in heading to the hotel's
award-winning spa.
Built in the style of a Sussex barn, it offers an extensive menu of treatments as well as an indoor and outdoor pool overlooking manicured gardens.
I'm here to try the special designed
mother-to-be
package which couldn't be more of a welcome treat. My lovely therapist Alice tailors the Mediterranean marinade facial perfectly for my stressed out skin – I've been told the elusive 'pregnancy glow' will kick in any day now – whilst the luxury pedicure is just the ticket for
swollen feet
. The hour-long session is then topped off with an Indian head massage so soothing that by the end I'm snoozing like a baby myself.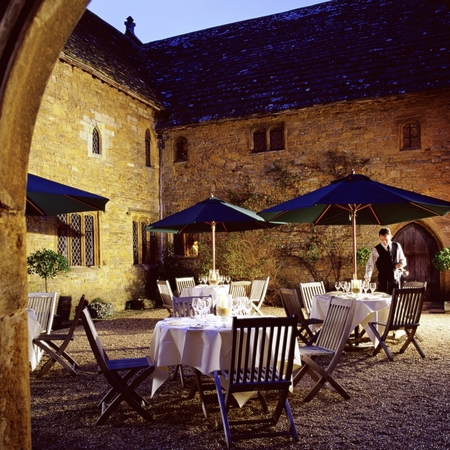 Eat and drink
By 7pm I'm feeling revitalized enough to make the short waddle over to the hotel's Tapestry restaurant for a candlelit dinner.
Giving up alcohol
has been the biggest sacrifice I've had to make since falling pregnant so eating good food (and lots of it) has become a welcome indulgence in the absence of a stiff G&T.
The restaurant focus is on
modern English cuisine
and although I'm dying to wolf down the poached duck egg starter followed by a rare steak,
pregnancy diet rules
dictate that the slow cooked ham hock and the mushroom and truffle risotto would be more appropriate. Both are an absolute delight, so much so that I'm not even slightly green-eyed at the sight of my husband washing down a bloody sirloin with an entire bottle of red.
The next day I'm thoroughly rejuvenated and make the drive home looking bright eyed and with more energy than I've had in months. In fact, I recommend any mother-to-be book themselves a break before the arrival of mini-me. It's amazing how much better you feel after sitting back and getting your toenails painted – even if you can't see them anymore.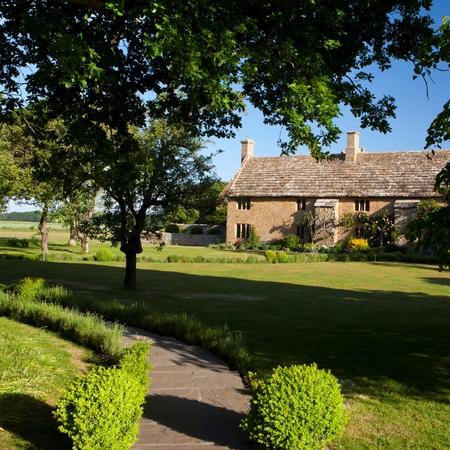 Don't miss
Enjoy a bracing walk along Climping beach, only a five minute walk from the hotel, or a spot of sightseeing in the picturesque town of Arundel.
The low down
The mother-to-be overnight retreat starts from £458 based on two people sharing a superior room and subject to availability. The package includes a one hour Mediterranean Marinade facial, a luxury pedicure and a Relaxing Siesta (Indian head massage), dinner for two and breakfast.
To book, go to
hshotels.co.uk
or call 01903 723511
THE ULTIMATE GUIDE TO STAYING FIT DURING PREGNANCY
17 PREP-AHEAD FREEZER MEALS FOR NEW MUMS
EVERYTHING YOU NEED TO BE PREPARED DURING PREGNANCY