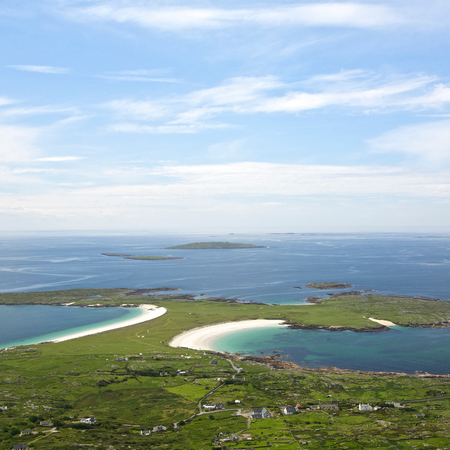 Kim Kardashian and Kanye West
didn't seem to enjoy themselves during
their time in Ireland on honeymoon
, having retreated to the cinema twice.
Maybe they just wanted some
downtime being on honeymoon
and all but it seems a pity to travel so far from home just to sit in a dark room room watching movies...
Kim recently tweeted that she had a whale of a time after getting back home.
@KKardashian95 We spent Kanye's bday in Ireland a few years back & fell in love with it! Its such a calming relaxing place!

— Kim Kardashian West (@KimKardashian) June 2, 2014
But are we convinced they really made the most of it? No. No we're not.
Let's take a look at the top 5 things they could have done to make the most of their time in
the Emerald Isle
.
Things to do in Ireland
Explore the wilds of Connemara by pony
What could be more romantic than a pony trek..? Well, maybe a few things but it's
still romantic
when you trek along beautiful and dramatic sandy beaches, in one of Connemara's most unspoiled areas.
They'll really discover the natural beauty on Ireland's dramatic west coast.
Travel to Dublin on a romantic drive through Wicklow Mountains
The wild, remote countryside in the Wicklow Mountains is a pretty awesome sight leading to bustling Dublin city with lots to see and do.
On their drive at the foot of the mountains, they'll see Powerscourt Waterfall (Ireland's highest), surrounded by beech, oak and pine trees, making for
an idyllic picnic stop
.
Walk at Ring of Kerry
Kimye could walk at one of Ireland's biggest tourist attractions, the Ivereagh coast, experiencing the stunning coastal scenery and pretty fishing villages, such as Caherdaniel and Portmagee, whichhave beautifully preserved stone dwellings and have weathered the coastal elements for centuries, nestled amid a picturesque scene of rolling hills.
And if it's cold they could stop in for a whiskey in
a cosy little pub
.
Row a lazy boat in Glendalough
The "Valley of the two lakes" is one of the most beautiful corners of the whole country and the epitome of the kind of rugged, romantic Ireland that probably drew the two to this corner of the world in the first place.
Two dark and mysterious lakes that you can row a boat in, tucked into a deep valley covered in forest...perfect for a few stolen moments away from the outside world.
It's popular but it is a
deeply tranquil and spiritual place
, and you will have little difficulty in understanding why solitude-seeking monks came here in the first place.
Stop at Irish pubs like Obama
And of course, if all else fails to impress, there's always a bit of culture to see in the friendly trad pubs perfect for pit stops, like Tig Cóilí in Galway City.
Is this not
more romantic
than the cinema? The answer is yes. Yes it is.
Any suggestions to add to Kim and Kanye's Irish honeymoon itinerary? Tweet us
@handbagcom
WHERE CELEB COUPLES WENT ON HONEYMOON
5 BEAUTIFUL SPOTS TO GO CAMPING IN BRITAIN
MORE TRAVEL FEATURES
LOTS MORE ON HANDBAG.COM