Whether you are
off to a festival
or just hitting the great outdoors for a weekend away - it's time to get organised.
Follow this guide to camping like a pro and avoid the stress of trying to put a tent up in the pouring rain with no clue what you're doing (unless you live off that kind of adrenaline, in which case, have fun).
How to camp like an expert
1. Buy a tent a person bigger than you need
When buying a tent, remember that it's not just you that has to sleep in it – it's all your stuff too.
Imagine your luggage
takes up the same room as a person – so if there are two of you camping, get a 3-4 berth tent.
2. Invest in a good sleeping bag
This is not the place to be
saving your pennies.
You'll be thankful when you are not shivering to sleep.
3. Pitch Perfect
Defend against the elements with strategic pitching. If you park your tent on a slight incline, if it does rain it won't all end up in your tent. If it's windy, pitch the smaller end directly into the wind – make sure all your guy ropes are secure, your pegs are at a 45 degree angle and are anchored down with rocks.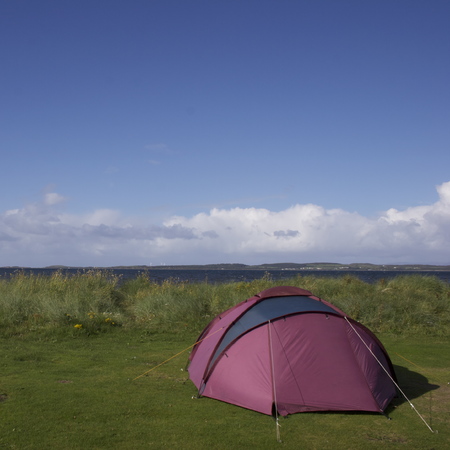 4. A duvet is not the same
As tempting as it is just to bung a duvet in your car – it won't help you
beat the cold
as it is coming from the ground up. Sleeping bags were designed to cover your top and bottom halves for that reason.
5. Campfire classics
Food is the key
to happy campers.
Think about what you are going to cook and how you are going to cook it before you go. Don't get ambitious and bring only what you need. Pasta always tastes better round a campfire – now is not the time to attempt a four course menu.
6. Packing list
Other than your tent & sleeping bag, don't forget to pack: Waterproofs, loo roll (camping facilities aren't always the best), powdered milk so you can always have tea, a basic first aid kit, and a hoodie (invaluable
camping attire
).
7. Practice makes perfect
Try putting up a new tent before your trip – then you can check you have anything and means you can put it up quickly if the
British weather fails you.
Read the instructions properly. It's just common sense.
8. The inner sanctum
Inside the tent, keep everything packed away and orderly to
avoid rows/tantrums
. Don't let things push against the inner wall of the tent as this will let water in.
Make sure you open the door and ventilate in the morning to dry out the condensation and stop everything you own getting damp.
9. Don't forget the marshmallows
Just sayin'.
How to stay healthy at a festival
KATE MOSS CONFESSES HER FESTIVAL ESSENTIALS
BRITAIN'S TOP PICNIC SPOTS REVEALED
MORE TRAVEL ADVICE