What images do you conjure up when you think of Bangkok? Prostitutes, the infamous Thai 'lady boys', ping pong shows, dirty streets, insane traffic jams and scam artists? Welcome to Bangkok. The vibrant Thai capital is all of those things and more, so much more.
After a day spent grappling with this exhausting place, you'd be forgiven for wanting to crawl into a darkened room and hide. But to get the most out of this warp speed Asian city, you have to nut up and go with it. Fantastic food, history, temples by the bucket load, culture that takes people watching to a whole new level and bargain shopping aplenty – Bangkok has a lot more to offer than sex (but, if it's sex you're looking for – they've pretty much got that covered too).
The city
Thanks to
The Hangover
, Bangkok's reputation as a party capital where anything can, and inevitably does happen has spread like the armies of cockroaches that parades its streets. A fact that the capital is proud of as posters saying 'The Hangover drank here' or cocktails dedicated to the stars are a big selling point.
This vibrant city throbs with people, traffic and an overwhelming heat. Tuk tuk drivers swerve their way through overcrowded streets, masses of low-hanging electrical cables line the pavements, and there are people everywhere trying to sell you something or take you to a gem sale.
If you've ever used the phrase 'oh, I really like people watching', then Bangkok is for you. Every corner offers some interesting spectacle to behold; Guys walking arm in arm with hired Thai companions, men selling live jumping shrimp in chilli as a road-side snack, stray dogs hiding round every corner and that's if you don't get taken out by a Chinese tour group along the way. You can not beat it (even if you tried).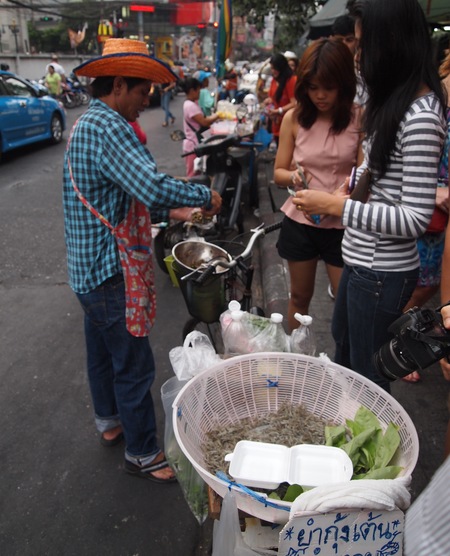 What to do
Temples
If temples are your thing, then you're in luck as Bangkok has over 400 on offer. Head to the Grand Palace and Wat Phra Kaeo (Temple of the Emerald Buddha) for a look at the most sacred Buddhist temple in Thailand, dating back to the 14th century. The site offers a great opportunity to understand some Thai history and observe traditions as people flock to adore the emerald statue.
Travel Tip:
Take a detailed guidebook as there is limited information inside. And take a tote bag to stick your shoes in – you will be asked to remove them to enter the temples, but you may find them for sale on the street market outside if you're not careful.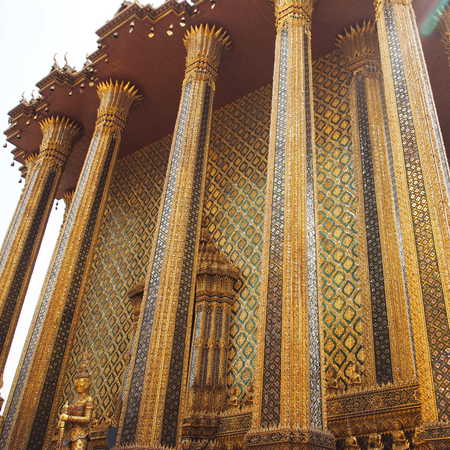 Also make a visit to Wat Pho (the temple of Reclining Buddha) to see the giant 43 metre long Buddha statue, and Wat Arun (Temple of Dawn) to climb up the seventeenth century temple for amazing views over the river.
Chatuchak Weekend Market
The 35-acre weekend market is home to more than 8,000 stalls where you can find anything from vintage clothes, homewares, art, through to puppies. Leave room in your suitcase, haggle hard and make sure you drink plenty of water as it can soar up to 40 degrees in the tin rabbit warren corridors. Fortunately there is a great outside bar,
Viva 8
, in the middle to grab a frosty beer and listen to some well spun beats if you need a recharge.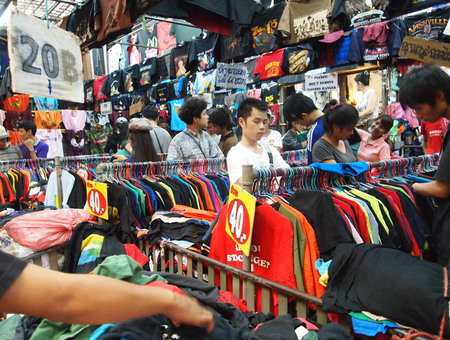 Get a Thai massage
'Massage?' will be a common question on the street, but if you fancy getting pummelled and pounded in a non seedy way, there are many good spas to get an authentic Thai massage.
Healthland Spa
offers a great two hour one for 500BHT (£10). Ask your concierge to book.
Where to stay
There are endless fantastic budget and hostel options on offer in Bangkok...or, you could just stay at the luxurious Mandarin Oriental. Tough call.
After pounding the sweaty streets – walking through the gigantic and decadent lobby is like entering a cool, calm oasis and provides much needed rest from the bustle of the city. Instantly you feel like you have made it back into the green zone and the world slows down just a bit. By western standards, Bangkok is a cheap city – let this be your one extravagance. You won't regret it.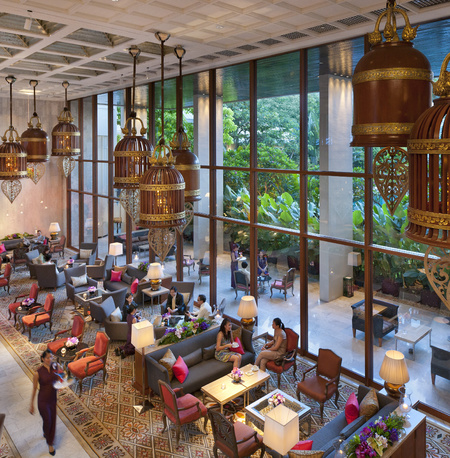 The breathtakingly hotel is situated on the river bank and rooms boast stunning floor to ceiling windows overlooking the busy waterway. It is a fantastic introduction to the city. The original Oriental hotel was built here in 1879 and it was reportedly the first hotel in Thailand. So it's not just a necessary luxury it's a spot of history too (that's your excuse sorted anyway).
The rooms are lavish, with huge weightless beds to rest your weary heads and well stocked bathrooms that will help transport you back to cleanliness. A good night's rest, a bath and a cup of tea in your robe watching the city come to life out of your window and you will be raring to take it on all over again.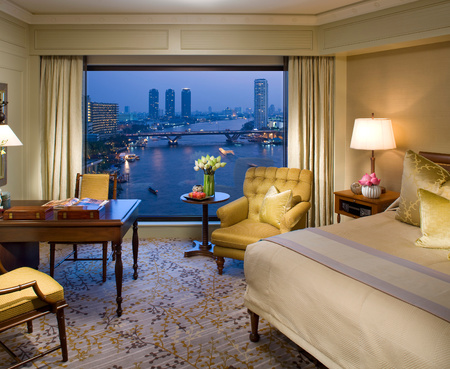 There is a pool with sun loungers if you fancy a few hours of relaxation and a spa on the opposite bank, accessible by the Oriental river shuttle boat. The staff are also beyond helpful and friendly (and the concierge are a godsend when it comes to travel advice and bookings - unless you are fluent in Thai of course).
However, don't think that by staying in a posh hotel you will miss out on the grit – Bangkok doesn't work that way. Turn the corner outside the hotel and you are thrown back into the city ready to take on a new exciting adventure, refreshed and well rested.
Rates start from THB 10,950 a night.
+66 (2) 659 9000;
mandarinoriental.com/bangkok
Eat & Drink
Thailand means street food (not literally you understand) and there is plenty on offer everywhere. Be brave, jump in and try everything and anything. Some of it you'll love, some of it will go straight in the bin – but what's the harm? Everything from satay, pad thai, boat noodles through to fresh fruit served with little pouches of chilli salt dip are worth sampling.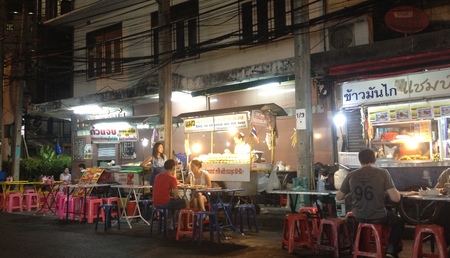 If you are of a delicate constitution – be wary of big plates of raw meat that have been sitting out in the heat all day. But general rule of thumb is follow the crowds – if someone has customers lined up – join the queue and order what everyone else is having (but probably wise just to chuck a pack of Imodium in the carry on luggage, just in case. You are not in Nando's any more Toto.)
For a calm street food experience head to Soi.38 off Sukhumvit road and try the award wining Pad Thai. Tall frosty beers are in order and make sure you save room for a huge helping of
mango sticky rice
– a coconut Thai pudding that is a must.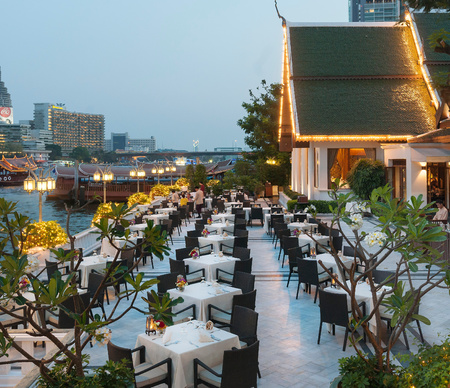 When you've had your fill of Asian street delights, the Mandarin Oriental offers a buffet like no other next to the river. Everything from sushi to salad and stunning roast beef, topped off with a pudding buffet and ice cream bar. However if you're not a buffet kind of person - the Oriental has 10 different restaurants and bars to choose from - including French fine dining, laid back Italian, traditional Thai (complete with dancers), a dedicated seafood restaurant and that's all after you've had afternoon tea at the stunning Author's Lounge.
For a pre dinner drink, be sure you head to the
Sky Bar
, the world's tallest roof top bar. Suspended in the sky on the 63rd floor, it has unparalleled views across Bangkok. Go at sunset and enjoy a cocktail while watching the bustling city transform from day to night. And did we mention
The Hangover
was filmed at this bar?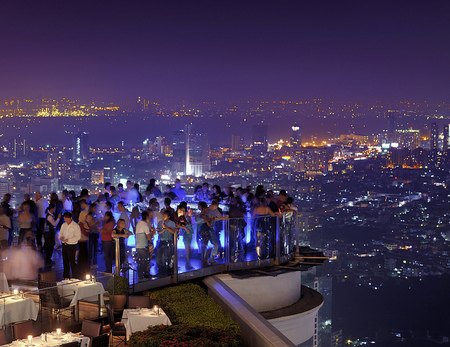 REVIEW: THE MAJESTIC HOTEL, KUALA LUMPUR
WHAT IS IT? MANGO STICKY RICE
PLAN A SUN-SEEKER'S ESCAPE IN THAILAND