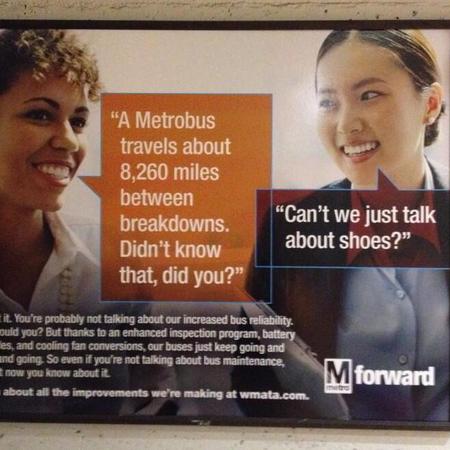 An American transport service's attempts at self promotion have fallen flat after creating an incredibly
sexist
fictional conversation between two working women.
The Washington D.C. Metro ad shows two smartly-dressed business women (presumably professionals) discussing the Metro's brilliant qualities, only for the other woman to say, "Can't we just talk about
shoes
?"
Hhhhm, obviously the D.C. Metro are convinced that women can't have an intelligent conversation about something as integral to their lives as transport and
commuting
(Yes, to work no less) without reverting back to shoes and
make-up
.
That's just how shallow we are, right?
A spokesman for the Washington Metro told
DCist
that the "point of the ad is to get people talking about Metro's massive rebuilding effort by juxtaposing technical facts with a variety of light responses in conversation between friends."
Still feeling angry? Take a peek at these famous Hollywood movies that were accused of being incredibly
sexist
in the gallery below...
Tell us what you think on
Twitter
? Sexist or innocent?
KANYE WEST IS NOT GOING TO BE HAPPY ABOUT THIS
THE JOBS THAT WOMEN JUST SHOULDN'T DO
MORE LIFE NEWS