Spotted the man of your dreams over the aisle or just fancy trying your luck joining the mile-high club? A new in-flight flirting
service aimed at getting passengers 'lucky' in the skies is here to help.
The new plan on Virgin America flights lets fliers order drinks, snacks and meals for other passengers.
Using built-in monitors, passengers can browse the seating plan and buy someone a drink discreetly.
People pay by credit card and the flight attendent delivers your flirty offering. Simple as that.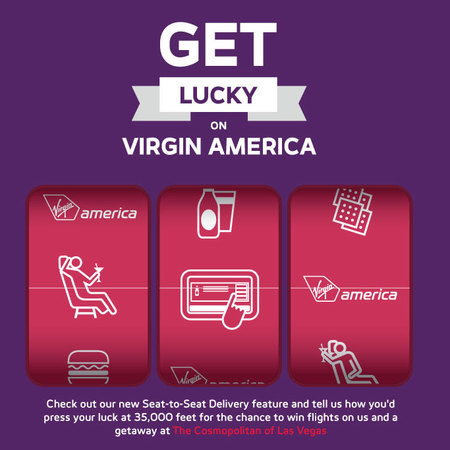 The plans announced on the company's
Facebook
page this week also reveal that passengers can send messages to another person through the system. So no need for awkward flirting in the loo queue.
Virgin boss Sir
Richard Branson
said of the plans that the chances of, 'deplaning with a plus one are at least 50 percent.' Wink wink.
Would you use it?
BRITS SUPPORT FAT PEOPLE PAYING MORE FOR FLIGHTS
TRAVELS WITH MIRANDA KERR: BALMORAL BEACH
HOTEL REVIEW: WINE TASTING AT STEENBERG, SOUTH AFRICA