A selfie of
Rihanna
cuddling up to a protected slow loris animal in Thailand has led to the arrest of two poachers in the area.
As part of a stream of holiday photos on the singer's Instagram feed, Rihanna posed with the furry creature on the streets of
party town Phuket
, saying 'Look who was talkin dirty to me!'
The slow loris is a protected species in SouthEast Asia and the local authorities were alerted to the picture on Ri-Ri's account, leading to the arrest of a 20-year-old man and 16-year-old boy who could face charges of possession of protected animals, which could carry a four year prison sentence and a 40,000 Baht (£800) fine.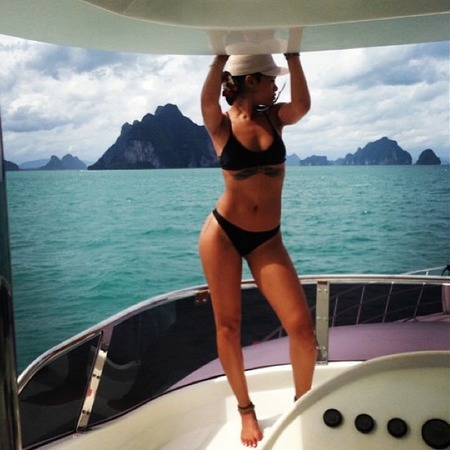 Police in the area have long been trying to crack down on touts in the Bangla Road area of Phuket, who peddle photos with exotic animals to tourists.
Two lorises were confiscated in the raid on the street, and they will be taken to a national park in Phang Nga.
FINDING A SPOT OF CALM ON A BUDGET IN PHUKET, THAILAND
PERFECT PHI PHI: THAILAND'S GORGEOUS A-LISTER
TRAVELLING IN STYLE ON THE EASTERN & ORIENTAL EXPRESS