Award winning wines, breathtaking scenery, incredible food, rooms you wish you could live in - yep, there are many reasons why the Steenberg Hotel is one of South Africa's top luxury destinations (and why we spent our time there scheming ways to move in permanently).
Set back from the bustle of Cape Town, the serene estate is nestled amongst it's famous Constantia valley vineyards and sleeps in the foothills of the Steenberg mountain from where it gets its name.
The hotel lives on the region's oldest farm and is housed in several striking white Cape Dutch style buildings, complete with winding gables, thatched roofs and green shutters. It all sits around a central manicured garden which wafts fresh herb scents and lavender through the breeze.
The joy of the layout is that it affords a sense of privacy and space. You don't feel as if you are at a hotel – more you have upgraded to a new level of living. As soon as you walk into the quad, your shoulders relax, you breathe deeper and have a true sense of being home.
Despite winning numerous awards and often dubbed the best hotel in South Africa, Steenberg is not showy. It's relaxed, laid back and has an air of quiet confidence that says 'don't worry, we've got this.' The exceptional staff only amplify this; always warm, welcoming and on hand without ever being in the way - like stealth service ninjas.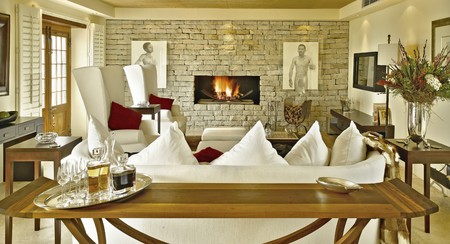 Sleep
The old Manor House is a focal point, having earned itself National Monument status. The hotel seamlessly integrates heritage with modern luxury throughout. Each of the rooms have been sensitively decorated with a different theme and soft furnishings. Most boast their own private outdoor space and all have access to the estate's pool. Even the entry level rooms are delightful, all affording pretty views.
To really feel like you're winning at life though, book one of the heritage suites which live in buildings dating back to 1682. The three suites - The Cape Colonial, The Khoikhoi and The Dutch East India – are all decorated to represent a different period of SA history. To call them suites is selling itself short – they are actually lavish two storey houses.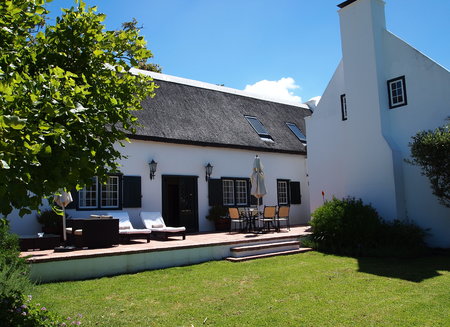 We stayed in the separate KhoiKhoi 'suite', a two bedroom villa with luxury trappings from it's striking living room, enormous kitchen (not that we'd be cooking anything) and walk in slate showers. Oh, and did we mention it has it's own pool, lush gardens and stunning views that mean you are guaranteed to jump out of bed beaming.
If you are planning to book your wedding here (which you should, now) – this would be a fine place to wake up as husband and wife.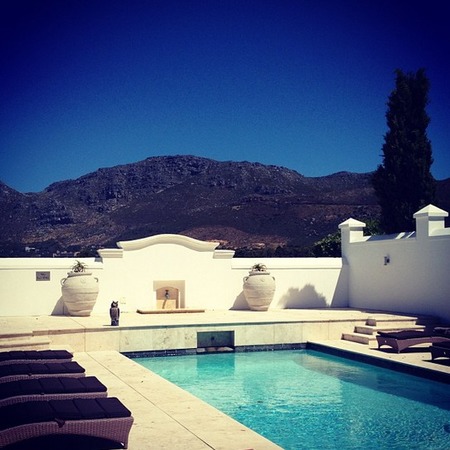 Eat & Drink
Whether you're a wine connoisseur or just like knocking back a few glasses of vino while someone tells you a story-it's reason enough to go. The wine is good, really good, but the setting is better.
The Steenberg Estate is the southern-most wine farm in Cape Town's Constantia Valley, hence that lovely cool sea breeze, and is famed for it's exceptional bottles of plonk. Bearing in mind our usual reference is whatever is on offer at Lidl, we particularly enjoyed their Cathatina red (understatement, we drank our weight in it) and if you can sweet talk someone into giving you a glass of their scarce Nebbiolo then you're on to a winner.
The estate offers two fantastic dining options, popular with locals and guests alike.
Catharina's restaurant is a two-in-one experience. At lunch, sit outside in the sunshine and enjoy a perfect fresh salad and a crisp glass of Sauvignon Blanc or you can sit out the back on their patio (where you will enjoy an amazing breakfast incidentally) overlooking the mountains.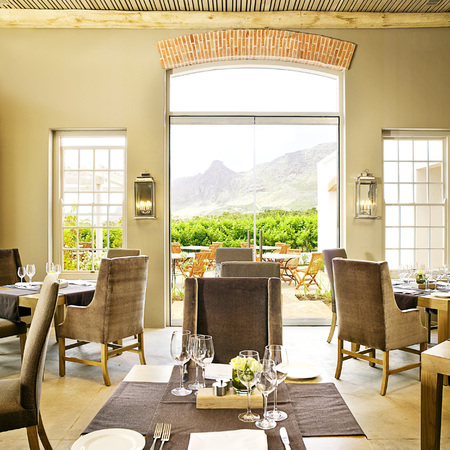 In the evening, start with a glass of bubbly at the contemporary Gorgeous by Graham Beck which is housed in Catharina's building. It's SA's only brand exclusive fizz bar and named after the late Graham's Beck favourite word.
Try the full range of Méthode Cap Classique (Champagne by any other name) produced by the Beck estate including the Brut NV bubbly that
President Obama
chose to celebrate his inauguration with and that Nelson Mandela toasted in his election.
Sample the different vintages while listening to the enthralling Zelda behind the bar tell the fable of feisty Catharina Ras - the estate's founder, and hear how her five husbands met their untimely demise at the feet of various South African wildlife. We felt like children gathered around a very posh camp fire.
Then head inside to the relax at the inviting fine dining restaurant and enjoy quality steak (note to self: South Africans know how to cook a hunk of meat) local seafood and perfect risottos, all swilled down with more wine and good conversation. The menu is in safe hands with Executive Chef Garth Almazan who embraces local and seasonal produce. You can't go wrong.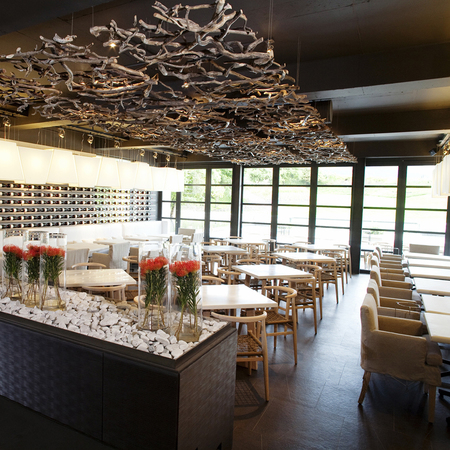 For a different feel – head up to the Bistro Sixteen82 tapas bar at the winery. We recommend doing a wine tasting and then taking what you've learnt and trying to remember it while you gorge on chilli tiger prawns, soft shell crab and strips of pan fried beef.
Full window walls open onto gardens and mountain views, whilst an open flow feel to the restaurant and winery make it a relaxed spot to drink with friends and watch the sun melt away.
Warning: You will go home half a stone heavier than when you arrived.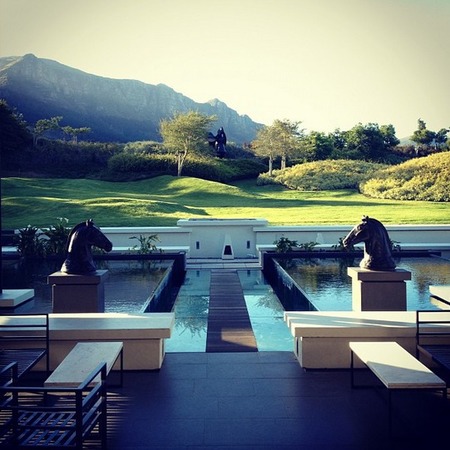 Do
A wine tasting course on site is a must. Well, you can't come to the best wine region in South Africa and not learn something.
If you've got the bug, carry on the tour through the region heading out to some (or all) of the other estates including Klein and Eagles' Nest and start comparing and contrasting different vintages, and generally just getting a bit tipsy.
Steenberg sits 20 minutes from the centre of
Cape Town where you can go shopping
, take the trip up to see the sweeping views from Table Mountain (book a guide to understand what you are looking at - we recommend the good folks at
ilios.co.za
) or delve into the Nelson Mandela legacy over on Robben Island.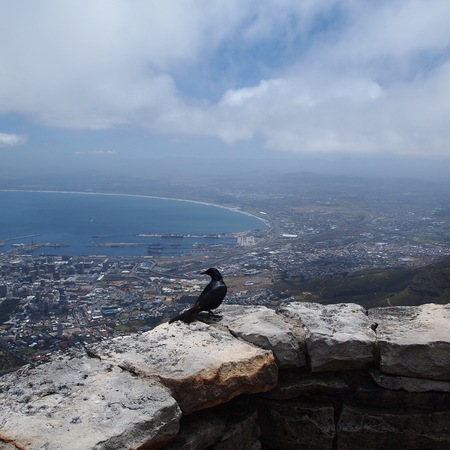 It's also a short drive from beaches, Cape Point and if it's wildlife you are after, there's a flock of penguins that have found themselves living on the coast to have a nose at or you can even go swimming with Great White Sharks if you're feeling adventurous (do it now before they disappear).
Travel tip
Hire yourself a guide to understand the tourist attractions and townships alike. South Africa has a reputation for violence – and whilst obviously it's there (security at Steenberg is tight), there is much more to this complex place. To say the country is troubled is obviously an understatement, so in order to get a sense of a place in the midst of change and it's turbulent past, you need a knowledgeable local guide. We travelled with the lovely and insightful Wayne from
take2tours.co.za
But don't let it's rep put you off – we have not stopped gushing about our SA experience since we stepped off the plane and have plans to return.
Particularly if Steenberg has a room going on a permanent basis...
The low down
Rooms from £171 (1 April - 30 Oct 2013) in a standard luxury room (sleeps two) per night going up to £275 in peak season.
Steenberg Heritage Suites start from £772 and 2013 rates do not fluctuate with seasons. Heritage Suites include breakfast, butler service, in room refreshments and laundry service.
For more information and booking, visit
steenberghotel.com
or call +27 21 713 2222
South African Airways offers daily flights from London Heathrow to George via Johannesburg from £995.65 per person. For more information, visit
www.flysaa.com
or call 0844 375 9680.
SEE HANDBAG'S HOLIDAY SNAPS...
LUXURIOUS 'BUCKET LIST' HOLIDAYS FOR 2013
SIX ALFRESCO DINING VIEWS NOT TO BE MISSED
VISIT CAPE TOWN FOR A GIRLY SHOPPING WEEKEND