If you are travelling around or through SouthEast Asia - chances are you will find yourself in Kuala Lumpur at some point on a stop over.
Whilst there is nothing particularly wrong with the place - good food, good shopping - the city's offerings are somewhat dwarfed by neighbouring destinations like Singapore or Bangkok and the town lacks a certain level of tourist fodder.
So a darn posh hotel with a pool, top notch bar and preferably a massive bath are not a luxury, they're a necessity. Save your £10 a night hostel dwelling for Thailand's beach resorts, and instead opt for some well earned relaxation in the form of a massive bed and a spot of pampering.
Stay
Enter the Majestic Hotel. Built in 1932, it was one of the first grand hotels in Kuala Lumpur. A new extension and a lavish restoration means the historic hotel provides modern luxury, whilst still preserving it's colonial heritage.
The history of the hotel alone is reason to go – it's one of KL's more interesting tourist attractions in fact.
Back in the day, the hotel was seen by the elite as
the
place to visit in SouthEast Asia for wild and extravagant parties. In it's history it has been used as Japanese High Command during World War II, it's where the opposition party met to lead Malaysia to independence and the National Art Gallery lived here for a bit.
The modern day hotel is now split between two wings – the new and the old. The new tower wing is linked seamlessly through the cocktail bar and glass corridor. The 15 storey addition boasts modern rooms, still in keeping with the historic feel of the hotel – but slightly more contemporary.
The original building, called the Majestic wing, has opulent interiors with art deco touches that remind you of all the distinguished old gal has seen.
Driving up, you are greeted by staff dressed in colonial style guard uniforms and enter through the hotel's neo-classical façade. It's so grand, you really want to pull up in a 1930s Ford convertible for the full effect.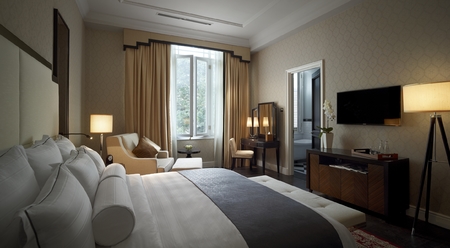 We stayed in a suite in the old wing (because that's how we roll) and it was delightful. A comfy bed that you could barely touch the sides, luxurious sitting room and a 1930s style tiled bathroom complete with roll top bath and walk in shower. Not going to lie, we spent one day just in our dressing gown reading magazines and wandering around the room pretending we lived there.
The hotel also provides a butler service which means check-in is done in the suite, breakfast is served in the comfort of your room and there is someone on hand should you need anything.
It's the little touches that count (well that and the massive bed. Did we mention the bed? Well it was massive). The hotel can arrange for someone to meet you at the airport taking the hassle out of arrivals. Then when you're there - they have a hotel car that will run you anywhere you need to go in the centre of town (and collect you afterwards of course). Guests are also provided with a local mobile phone so they can contact the driver or hotel if they need to. Easy.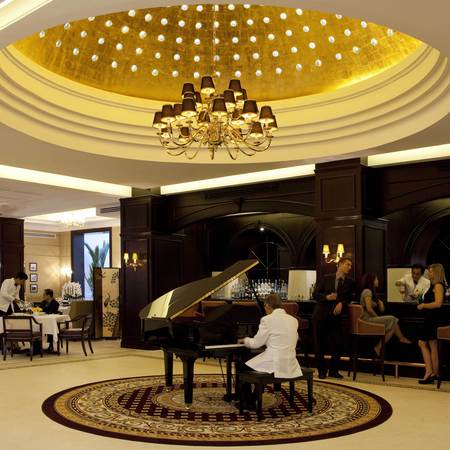 It has several dining options including the colonial tea longue and bar in the old wing (perfect for afternoon tea and to drink crazy blue cocktails in the evening whilst listening to the piano player) and Contango in the tower wing – a contemporary open kitchen restaurant combining the hotel's Asian, Japanese and Western influences in a modern buffet style set-up.
For the luxury maraschino cherry on top, the hotel also boasts a art nouveau style spa inspired by Charles Rennie Mackintosh and two outdoor swimming pools.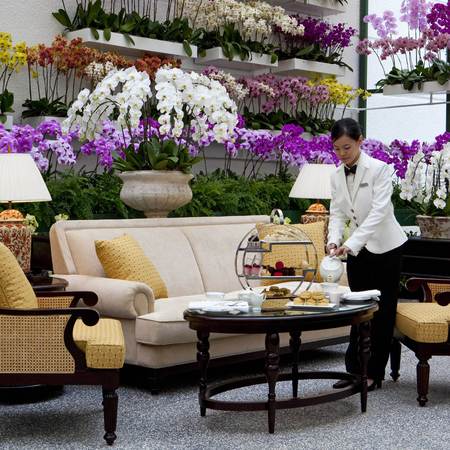 Top tip
If you are there for a special occasion - book out the hotel's orchid conservatory for a private afternoon tea for something that looks like it walked straight off the Great Gatsby set.
Do
When travelling between the airport and our hotel - we asked four residents what they would recommend doing while in KL, they all looked a bit blank, pondered it for a bit and ended up saying, 'shopping?'
The shopping is a mix of high end malls and markets selling knock-offs of things from high end malls. Head to Bukit Bintang – the city's main retail belt for swanky shopping or Petaling Street Market to get your fill of Rollex watches, Preda bags and Channel sunglasses.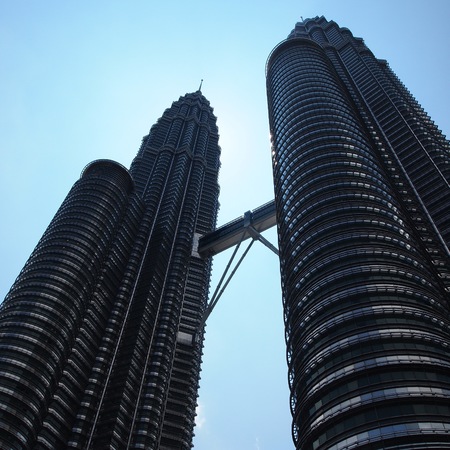 The big attraction in the city is the Petronas Towers where you can head up to the Skybridge or Observation Deck for views across the city. A word of warning – book tickets in advance as they sell out. However, the
Sky Bar
on the 33rd floor of the Traders Hotel opposite offers direct views across to the towers, and you can drink lychee martinis there instead while watching the towers go from day to night mode. Much more civilised.
It is also advisable to book a table at the Sky Bar by the open windows in advance as the bar has a pool in the middle of it (probably seemed like a good idea at the time), which limits standing areas near the views.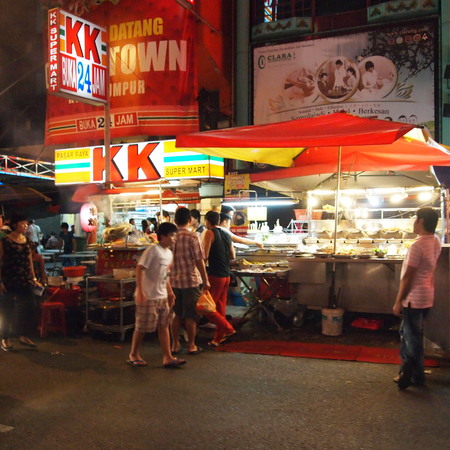 Eat
Head back to the Petaling Street Market at night to see it transformed. Rammed with street food stalls and little open fronted restaurants – it's a good spot for some Malaysian grub.
We indulged in a bit of road side Lok Lok – where you pick skewers of meat, fish or veggies and dunk them in a boiling vat of water to cook. Like an Asian fondue sans cheese. Then dunk your cooked sticks in chilli sauce and wash it all down with a huge cold beer.
Jalan Alor also offers a veritable feast of cheap street eats from Malaysia and China for you to feast on in an outdoor setting.
Then once you've had your fill of street food - head back to your massive bed and those bath robes for a night of deep sleep. Bliss.
The low down
Room rates start at £170 (765 MYR) a night in a Deluxe room in the Tower Wing,
majestickl.com
YTL Hotels is also offering a one night complimentary stay in a Deluxe Room at The Majestic Hotel Kuala Lumpur to guests booking a three-night stay at their Pangkor Laut Resort, Tanjong Jara Resort or Gaya Island Resorts. Find out more,
ytlhotels.com
GATSBY OR BLING RING? HOLLYWOOD FILM INSPIRED HOTELS
CHELSEA FLOWER SHOW INSPIRED DINNERS & DRINKS IN LONDON
WHAT IS IT? MANGO STICKY RICE