Who knew the next generation of golfers were going to be our boyfriends? Oh the humanity.
Future golfing widows or those who just like having a really lavish holiday somewhere special - it's time to head to the Garden Route in South Africa.
This popular stretch along the south-eastern coast of South Africa has some of the best golf courses in the world (and some pretty special resorts attached to them) but there is more, so much more to this region.
With it's mild climate,
white sand beaches
, exotic wildlife, fine dining and adrenaline junkie experiences aplenty - you can tailor your trip to suit. And it's all set against a stunning World Heritage Site backdrop that ranges from striking coastline, lush mountains to parched desert.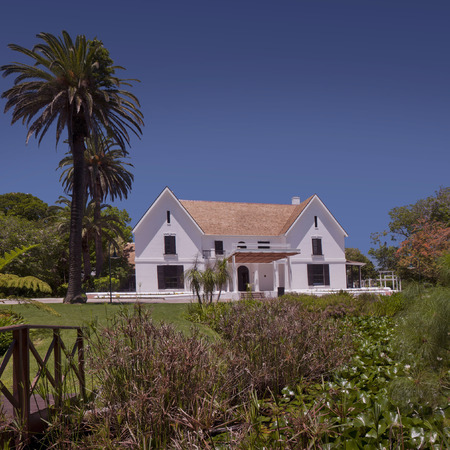 Where to stay on the Garden Route?
Luxury hotel Fancourt near George offers 115 private and modern rooms and suites set against the backdrop of it's three originally designed Gary Player golf courses. But wait, we've already told you – it's not about the golf – it's about a luxurious vacation where you can do as much or as little as you want. Preferably the latter.
In that case, base yourself at the, wait for it, Manor House at Fancourt.
This National Monument has been turned into a
lavish boutique hotel experience
, quietly tucked away on the larger hotel estate.
Set in the stunning 'Blanco House' which belonged to Henry Fancourt White 150 years ago, it houses 18 luxury suites, all with personalised butler service.
The house allows you to get a personalised hotel experience with all the facilities of a
large resort
a short stroll away, including pools, tennis courts, spa, fitness classes, gym and many dining and bar options.
Take afternoon tea on the terrace next to the private pool or enjoy a quiet drink in the gentleman's Montagu bar complete with leather wingback chairs.
Canapés and champagne
are served, basically straight after afternoon tea in the grand communal living room of the house – setting the tone for a civilised evening of wine and good food.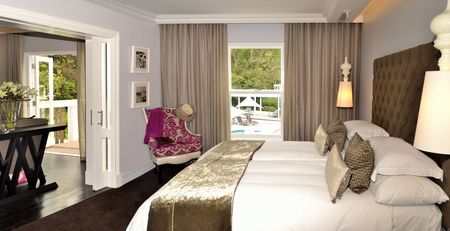 The suites themselves are breath-taking. Bathrooms you could live in, dressing areas, sumptuous beds that are made with 10 layers of luxury (oh my) and a separate sitting room, all decorated with luxury textiles and contemporary designs that don't feel out of place in the historic setting. It's your own little sanctuary (that happens to be bigger than our flat – but that is neither here nor there).
We stayed in a Grand Suite which opened up onto a patio next to the pool with a view of the gardens. Quite the perfect spot to read a book and enjoy a gin and tonic – which you can get from glass decanter bar. You had us at gin.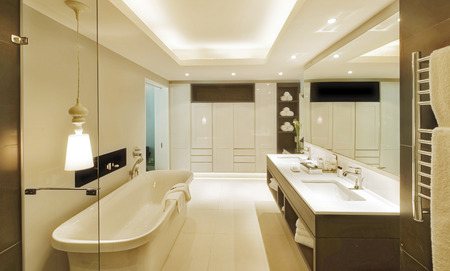 The staff made us feel completely at home in what is essentially a big posh house share (where children under 16 are banned and we didn't really see anyone else at all – meaning we could pretend it was ours, all ours).
Every detail was catered to. We looked forward to going to bed at night as the turn down included lavender on the pillow, handmade chocolates, underfloor heating with your slippers toasted, PJs laid out and towel art on another level of creative. And of course because we could have a brandy in our robe and pretend we were used to living life as Bruce Wayne (without the Batman bit).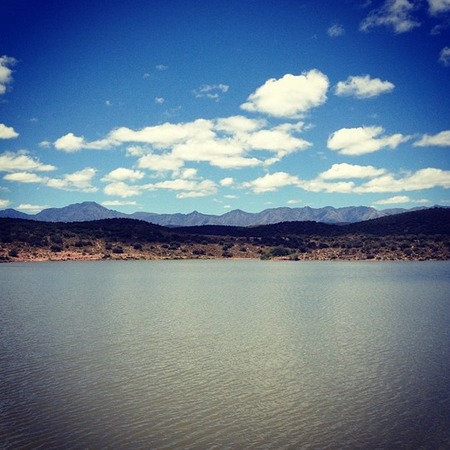 What to do on the Garden Route?
There is so much to cram in on the Garden Route. Where to begin?
In our short stay, we went exploring in Oudstshoorn. If it's animals you are after, you're in luck. Head to
Buffels Drift Game Lodge
where you snoop out some hippos, Cape Buffalo, giraffes and meet some friendly rescued elephants before enjoying a mouth-watering ostrich steak lunch and a crisp glass of white wine in an incredible waterside setting.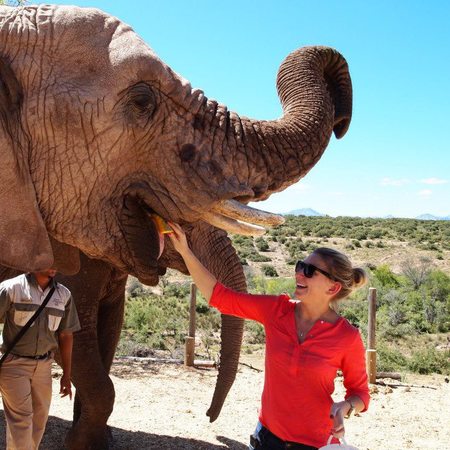 Rather look at scary giant birds? You could always take a trip to the
Safari Ostrich Show Farm
where you can see where that great steak came from and even go for a ride on one. Not for the faint hearted.
If all that sunshine is getting too much – delve underground and explore the natural wonder of the
Cango Caves.
Get a tour around the towering stalactites and stalagmites or try getting limber and shimmying through some tiny rock holes.
Outside of Oudstshoorn there is an endless array of activities and scenery to take in. For some beach time, head to Heralds Bay – only 15 minutes from Fancourt. Or if you are feeling an adventure coming on you can go hiking at Tsitsikamma Forest, take a boat trip to spot dolphins and whales, go shark diving, skydiving….phew.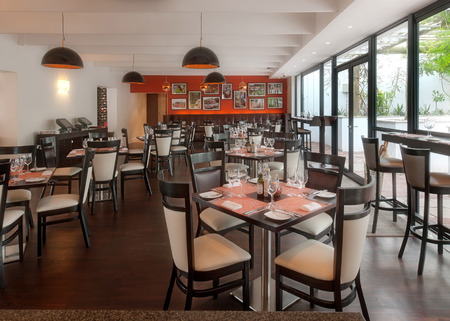 Eat & Drink
Fancourt has seemingly endless dining and drinking options to suit your mood. The relaxed and stylish La Cantina was our favourite with it's
traditional Italian menu
, contemporary design and beef and squid carpaccio. Of course everything needs to be accompanied by lashings of South African wine.
For a more casual evening out – enjoy crayfish night at Morning Glory (lobster dripping in garlic butter and fries please) situated in a bright dining room overlooking the golf course. Make sure you finish your meal with a Don Pedros – where your favourite liquor is poured over ice cream. Why oh why have we never thought of this before?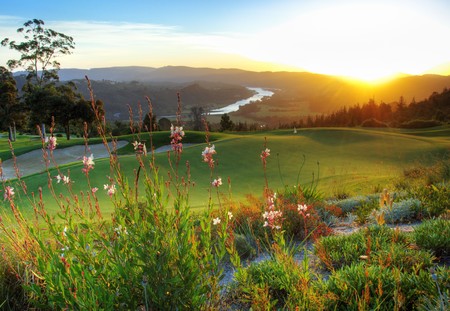 The low down
Fancourt Hotel:
From £195 for a luxury room per night including breakfast (sleeps two)
Manor House at Fancourt:
From £430 per luxury suite per night, sleeps two, on a fully inclusive basis (based on travel April – Sept 2013).
Manor House includes:
Airport transfers, daily breakfast, afternoon tea, one meal daily from in-room Dining Menu (excluding beverages), fully stocked mini-bar and liquor decanters, evening canapés with a glass of sparkling wine, 24 hour on-call butler service, and luxury courtesy car with 10-km radius.
Honeymoon Offer:
3 nights Fancourt Hotel, 2 nights Steenberg, 1 night Blue Train including flights from Heathrow and hire car from £2,464 per person
Read our review of Steenberg Hotel here
For more information and booking, call + 27 (0) 44 804 0010 or visit
fancourt.com
THE BEST DAY TO BUY CHEAP FLIGHTS REVEALED
THINGS TO DO IN NEW YORK CITY THIS SUMMER
MORE HOLIDAY INSPIRATION