If like us, you're ready for a cheeky getaway during the summer then an Irish spa break could be the perfect option.
Ireland has some
lovely city spas
on offer, but for some true get-away-from-it-all relaxation, you need rolling green fields, crisp fresh air and to spot the odd cow or two in-between your spa treatments and afternoon naps.
Why go?
The size of the Radisson Blu Hotel & Spa Cavan makes this such a great find for anyone who loves to be around nature.
Formerly known as The Waldrons of Dromellan castle, visitors are free to walk around the 1,300 acre grounds and enjoy a sense of calm that this rural oasis brings.
Plenty of weddings are held in the grounds, and when you see it for yourself, you can understand why it's such a popular choice.
Plus there are over 150 rooms which all enjoy lovely views of the rolling lawns and the estate so there's lots of room for a big group.
The hotel can cater for everyone so whether its a romantic getaway or a girly weekend, there's plenty of options available.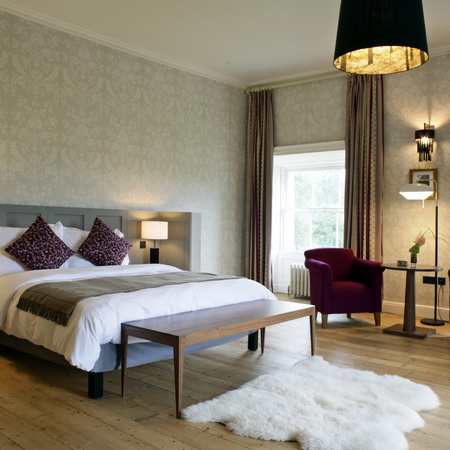 Eat and Drink
The Botanica Restaurant takes pride in using as many local produce as possible and has devised a menu celebrating the estate's plant life. Chefs worked with a professional to see which leaves, mushrooms and other vegetation around the land could be used to create the unique menu.
Carnivores can't go wrong as we sampled some of the most delectable beef we've ever had at the restaurant - so make sure you take time from all that relaxation to stop in for a bite.
The menu is always being updated but we really enjoyed the Risotto Pied Bleu et Joue de Bouef ( yes the chef is French just in case you hadn't guessed).
As well as the risotto and beef, we got to feast on Braised pork belly and Black pudding, Seared Irish scallops and some delicious champagne jelly.
Plus a cheeky bit of dark chocolate orange tart.
There's the typical Buffet breakfast and a healthy and delicious lunch can also be bought from either the spa's Pear Tree restaurant before/after you treat yourself to a lovely treatment.
In the evenings, indulge in drinks at the 'Wine Goose Cellar Bar', located in the underground tunnels beneath the great house.
Not your average wine cellar mind, it felt like you were drinking in a James bond style bar cave. A very cool way to spend an evening.
What to do
The need to get out of your day-to-day clothes and spend all your time swanning around in a bathrobe is key when visiting a spa and Radisson understand that.
They pride themselves in providing a full range of treatments in as relaxing and easy environment as possible. Don your robe and you are free to stroll over to the spa from your room without getting any raised eyebrows from the other guests.
The restaurant at the spa encourages you to dine in your robes too - you don't have to ask us twice.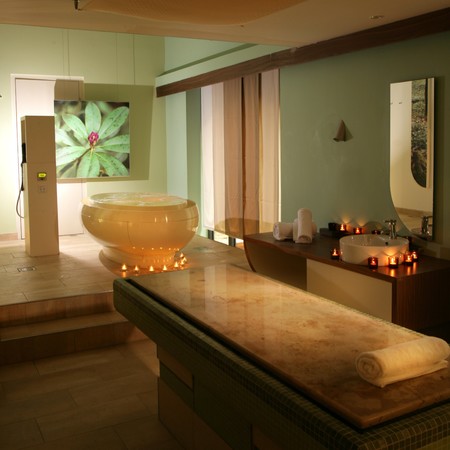 Named the best hotel spa by Irish Tatler in 2011, the health spa has 40,000 square feet, which boasts an infinity pool, several steam and sauna rooms as well as treatment rooms.
Everything about the spa's grounds are instantly calming and you can happily spend hours of pure relaxation at your leisure.
We definitely recommend the Aroma Luxe Massage in which you get to choose the mixtures of oils that best fit your mood and needs. Then lie back for an hour and have your troubles kneaded out of your system.
Or give one of their unique Anti-Ageing Peat facials a try. The antioxidant facial gives a smoother, youthful appearance to the skin thanks to the 100% peat masks. It can also help improve the appearance of acne scars as well.
If you want to keep active, there is a gym on site or you can make use of the enormous grounds as there are set walking trails which you can try out during your time at Farnham Estate.
It's worth making your way over to the lake in The Lake Walk for a bit of quiet reflection surrounded by the elements or go on a foraging walk to see how many edible plants and mushrooms you can find.
We had a cheeky nibble of a mint leaf and it was pretty fresh as you might expect.
After getting back to nature, we were so happy to pack our gift of Lavender seeds from the grounds into our trusty
Antler suitcase
- it felt like we got to take a piece of Cavan home with us.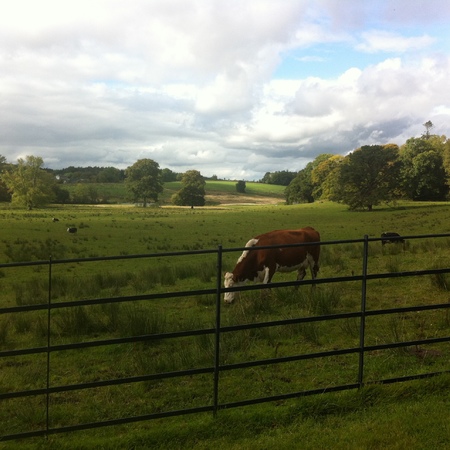 The low down
With regular Aer Lingus flights you have no excuse not to go. You don't even need a passport (but take it along just in case).
Flights start from £40 and are even cheaper in the sales at
aerlingus.com
Visit the
Radisson Blu Farnham Estate
to find out more about prices.
Make sure you give one of their "Girls Night" packages a look if you're planning a trip with friends.
So are you tempted?
ESCAPE TO THE BEAUTIFUL ISLAND OF CORSICA
HERE'S WHY LUXEMBOURG IS THE NEW 'IT' CITY BREAK LOCATION
ENJOY AN IDYLLIC BREAK IN GALWAY, IRELAND