If your idea of a holiday is heavenly views, luxurious private villas and free homemade ice cream all day – then step this way to
Six Senses resort
in Thailand.
Set on the small island of Yao Noi, just off the coast of Phuket, this resort is high-end luxury all the way, but wrapped up in a cosy and friendly boutique hotel vibe. Best of all, it feels a million miles from the well trodden backpacker route through Thailand.
The Resort
Head straight from the airport at Phuket and hop on a small speedboat at Ao Por Grand marina. With a quick swoop around the staggering James Bond island, past a few long tail Thai fisherman and you arrive at a paradise island of white beaches, blue seas and utter relaxation.
The resort itself is a collection of luxury villas nestled snuggly around a hillside, all with their own entrance, generous outdoor space and private pool. As soon as the resort golf buggies drop you off at your room, you can shut the garden door and be in your own little world. Honeymooners or those just in need of a romantic tune-up, take note.
Some of the wooden villas are surrounded by lush greenery in the centre of the resort, while others have breathtaking views across Phang Nga Bay and all the outcrop rocky island formations that dot their way along the coast. If you wanted a postcard that sums up Thailand – this view right here is it.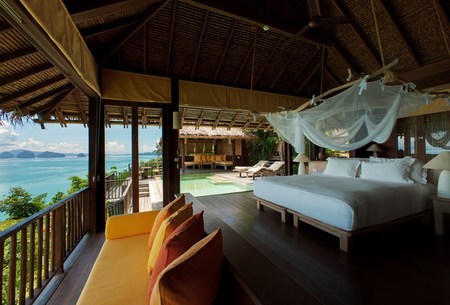 The ocean villas are designed to capitalise on that there view. The massive bed is poised to look out over the vista from the floor length, window walls. A big sunken sofa is also on hand for daytime reading and sea gazing.
A grand open air bathroom means you can shower outside (fully enclosed of course), complete with divinely smelling natural products, and there is also an open air stone bath tub which is perched to take in the views while you have a soak. Now that is the high life.
Outside, each villa gets an infinity pool, a deck and a shaded sofa area (perfect for private spa treatments) so if you want – you need never see another guest your entire stay.
Inevitably however, you must drag yourself out of your private cocoon – probably in search of a cocktail or three.
Winding paths connect the villas, the spa and the hotels restaurants and bars. While the helpful butlers will come and collect you in the golf buggies and whizz you to wherever you want to go – it's worth taking a stroll when you arrive as you can potter through the herb gardens and see the resort's cute mushroom growing hut as the chefs here like to make the most of homegrown produce.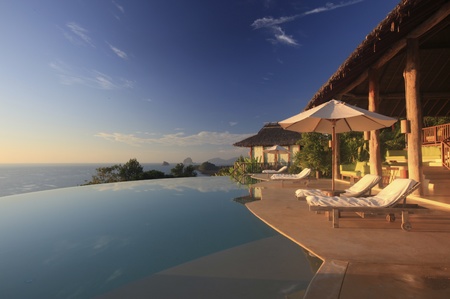 Eating & Drinking
If you are staying in a jungle villa – you are not deprived of that breath-taking view. All guests can make use of The Hilltop Reserve. Claiming the best panoramic look out point, it has a stretching infinity pool and sun loungers by day and then at night, it's transformed into a candle lit restaurant where you can dine on a delicious Thai tasting menu and good cocktails around the pool as you watch the night fisherman below crawl home through the waves.
Each of the resort restaurants have a different feel. Set in the central hub, down by the private beach there is the The Living Room, an all-day open-air restaurant. Being an island resort, everything is made here and it is at this spot you will find the bakery and kitchens, which you can pop in to. Selling homemade jams and biscuits, the resort also makes it's own ice cream, which you can treat yourself to all day (the ginger sorbet? Oh my). Breakfast is served here and you can nip between the different hubs of western cooked breakfast, pancakes, eggs, traditional Thai, the bakery and the cold fresh produce. Divine.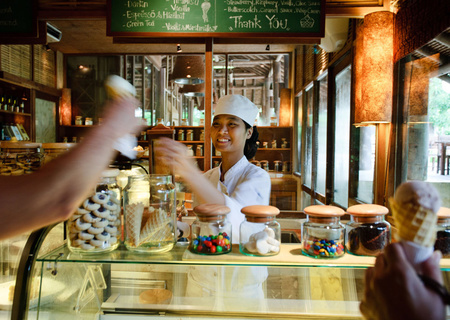 The Main House (also the reception, library and boutique) has a two-story open-air bar called The Den, which again makes the most of the location. Bench sofas are sunk in pods in a vast infinity lily pond – meaning you can drink a martini at the bar and still keep in your bubble if you wish. In the day enjoy a salad or a Thai snack on one of their swinging sofa beds.
However if all of this again sounds like too much effort, you can dine in your ample room or outside on your private deck. It's a tough life.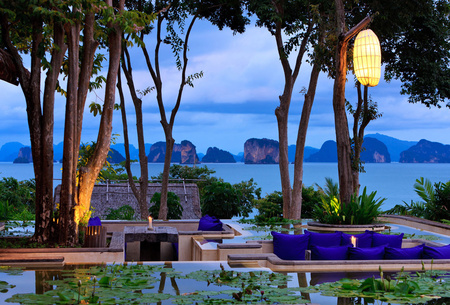 What to do?
Nothing. Do nothing. Read if you like? But if you must do something, take a Thai cooking class at The Dining Room restaurant or enjoy a yoga session held on a platform above the beach. There is kayaking, windsurfing, Thai muay boxing lessons, snorkelling and a whole host of activities for people who can't sit still.
You can also take one of the many excursions on offer including private boat trips with a picnic to an uninhabited island. Now doesn't that sound nice? We also recommend watching the late night film at their outdoor cinema on the beach. Sitting on a sun lounger with a box of freshly made popcorn, while
Roman Holiday
plays under the stars is just a bit awesome.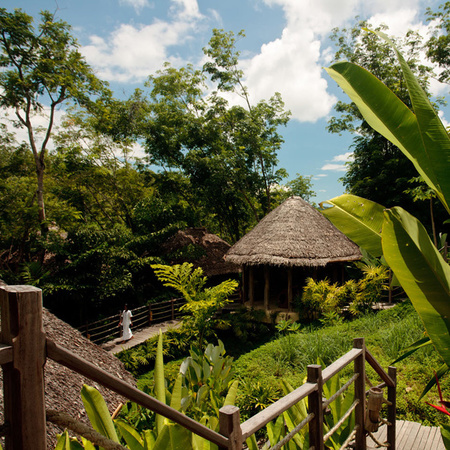 All of the above is optional, booking into the spa however is a necessity. Here you can enjoy a traditional Thai massage of the highest caliba. Modelled on a typical village houses from northern Thailand, little wooden pod buildings come off a central walkway, all surrounded by lush greenery and lily ponds. The service is exceptional, with friendly staff and it has to be said, the best Thai massage we have ever had. Pure and utter bliss.
Go now
We'll let you in on a little secret - if you go before September, you get more bang for your buck. Why? Because it's green season; the cleverly rebranded version of monsoon season. The redefinition is needed thanks to a misunderstanding about what monsoon season means here - no lashing gales and missing sunshine for weeks on end, oh no. Instead you'll get less oppressive temperatures and a refreshing hour long thunderstorm a day before it all dries up and the sun comes back out. And that's it. Hence green season – much nicer.
The low down
Turquoise Holidays (
www.turquoiseholidays.co.uk;
01494 678 400) offer 7 nights for the price of 5 in a Hideaway Pool Villa from £1,395 per person based on two people sharing with daily breakfast, saving up to £900 per couple. Price includes return international flights with Thai Airways plus return speedboat and road transfers.
MIRANDA KERR'S INFLIGHT PACKING ESSENTIALS
THE BEST PLACES FOR A STAYCATION THIS SUMMER
TRIP OF A LIFETIME: SEE THE REAL USA IN ILLINOIS