Elegant and extravagant - the Eastern and Oriental Express deserves a rightful place on everyone's bucket list.
This iconic train encapsulates luxury as it sets off from Singapore and bounds across the stunning landscapes of Malaysia and Thailand, destined for Bangkok on a three day, two night, adventure.
Sure you could fly in a couple of hours – but where's the fun in that? When we spend most of our time trying to get places as quickly as possible - this mesmerising journey provides a rare opportunity to take a breather and enjoy the ride.
The train
Walking onto the platform to see the this grand dame of travel makes you feel like an intrepid, and ridiculously posh explorer from days gone by. Suddenly you wish you were carrying a hat box and having some dramatic love scene worthy of an old back and white movie.
On board the train is everything you imagine when you conjure up images of the Eastern and Oriental Express. 1920s style decadence, polished wood, brass plaques, clinking cut crystal glasses, silverware and train staff in cute as a button waist coats.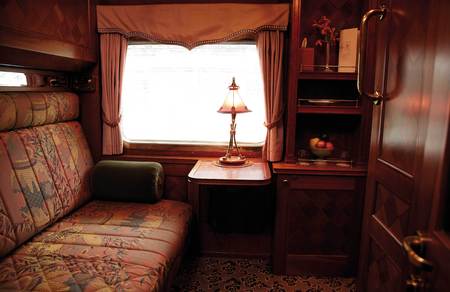 We stayed in the entry level Pullman cabin - but basic it was not. A plush bench sofa runs along one side of the room by day, along with a table, big window, and en suite bathroom. By night the room is transformed into two swanky bunk beds complete with monogrammed duvets.
As adults - sleeping in bunk beds is not something you normally get to do, and after the all too familiar fight of who gets the top bunk, it is a comfortable novelty, especially as the train rocks you to sleep (or maybe it was all the wine.) If bunk beds aren't really your style - the train also boasts spacious twin and double suites.
Each carriage of rooms shares a butler – a must when one travels in style . The attentive staff are on hand to serve you breakfast in bed, afternoon tea and are there when you feel the urge for a G&T but the bar car just seems too far away.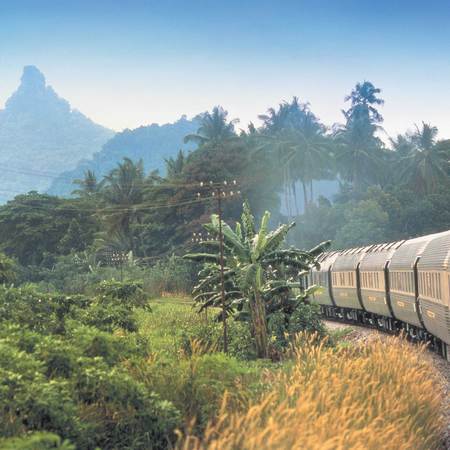 What to do
Whilst you can happily spend the day in your room watching the world chug past your window in your E&O slippers, the real joy is the open air observation car. Being fidget-bums and fearful of the lack of internet, we came armed with entertainment in the form of books and playing cards, but we didn't need any of it.
Nowhere else could you watch a complete cross section of two countries pass by in this way. Men on scooters carrying fishing rods, children playing on the tracks demanding you wave, farmers at work, endless infrastructure developments going on, we even disturbed three men taking a bath in a stream. There's just too much to see, too many photos you don't want to miss.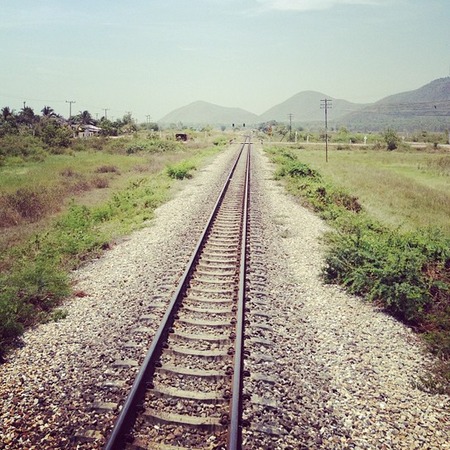 The train also makes scheduled stops at a couple of points of interest along the way. A visit to Penang in Malaysia gives you a chance to stretch your legs and explore. Although brief, we took part in the walking tour around colonial Georgetown with a knowledgeable guide who showed us inside some temples and local markets.
When there is time, the train also makes a second stop at the famous River Kwai Bridge, however due to delays on the railway we didn't have chance.
Top tip:
Don't make urgent plans the other end. The tracks are old and the journey is somewhat dictated by the Thai & Malaysian train stations, so be prepared to arrive later than you thought. But hey - what does it matter? A few extra hours isn't exactly a hardship.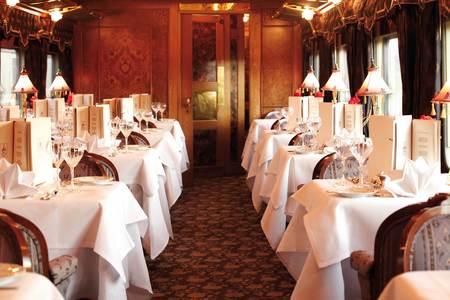 Eat & Drink
Breakfast of pastries & coffee is served to you in bed, while the seated lunch and evening meal are dished up in the white linen table clothed dinning cars. There's even afternoon tea delivered to your cabin if you can fit it in (it's worth just trying the tea as it comes from the Cameron Highlands tea plantations you pass through.)
Prepare to pile on the pounds as sumptuous meals such as a starter of Tom Yam vichyssoise with quail followed by pan-fried sea bass and a pudding of delicate pineapple crumble are served – and that's just the lunch.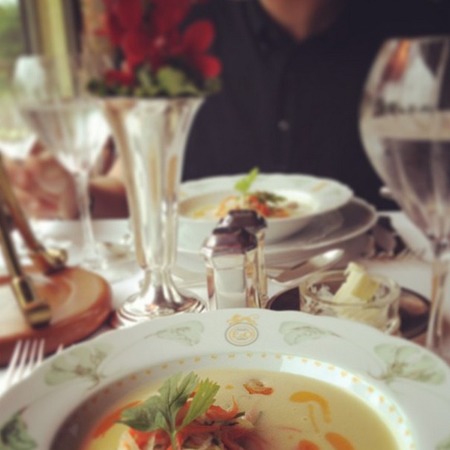 Getting dressed up for the evening meal was a highlight. Drinking champagne in your LBD while trying to apply your eyeliner on a rolling train was as civilised as it was hilarious. Head down to the bar car for pre-dinner cocktails before enjoying a fine dining experience like no other.
Dinner is a four course feast that it is difficult to believe is prepared in such a tiny kitchen on a moving train. The menu changes regularly and all the food is presented in such a way would not be out of place in a Michelin starred restaurant. From a medley of seafood to start, followed by succulent braised lamb in a bak kut teh sauce with celeriac puree to the adorable chocolate tarts served with a coconut cloud - it is all mouth wateringly good.
Life aboard the train is sociable and over meal times you get to mingle more with your fellow passengers. Honeymoon couples, family celebrations, friends on an adventure together were all there from every corner of the globe and the atmosphere is friendly without being intrusive and the setting decadent without being stuffy.
After dinner, guests retreat to the bar car for a well made Negroni and listen to the resident pianist belt out songs on demand – from Adele to Elton John he had it covered, all with a healthy dollop of banter. The friendly bar staff are happy to share tales of their years on the train (did you know Sam Neill of
Jurassic Park
fame once rode the rails?) and eager to offer insider tips for where to visit on arrival in Bangkok.
What to pack
Formal wear for the evening – as glitzy as you like – and relaxed but smart wear for the day. Don't forget your camera and a spare memory card, but you can leave the playing cards and Kindle at home.
The Low down
Prices start at £1,560 per person for the Bangkok to Singapore journey (or vice versa) based on double occupancy in a Pullman cabin and includes all table d'hôte meals and sightseeing tours. For reservations visit
orient-express.com
or call 0845 077 2222.
BEYONCÉ CELEBRATES BIRTHDAY ON THIS SUPER YACHT
15 FILMS THAT MAKE US WANT TO LIVE IN NYC
WOULD YOU UPGRADE TO A CHILD-FREE ZONE ON A FLIGHT?