Lying un-spoilt in southern Thailand, just an hour by ferry from Phuket, and made famous by the 2000 blockbuster
The Beach
starring the lovely Leo DiCaprio, the Phi Phi Islands have made their way on to a bucket list or two.
And in reality, they don't disappoint - expect an intoxicating mix of beautiful white beaches, crystal clear waters, lively bars and laid-back local charm. You're guaranteed to fall in love with this friendly little paradise - there's no schedule, no hustle and no reason to rush.
Where to stay
Of the seven islands in the group only one is inhabited, Koh Phi Phi Don, but even here there are no roads or big hotel chains in sight.
Somewhere between a basic backpacking hotel and a 5* luxury resort is the Viking Nature Resort - contemporary accommodation with a real Thai flavour. Located slightly away from the town (a pleasant 20 minute walk), it occupies a more tranquil location, nestled away amongst the trees overlooking the crystal clear waters and Maya Bay (also known as 'the beach'). You can choose from rooms or villas, all blissfully secluded and tastefully decorated with a decent helping of home comforts, including air conditioning and Wi-Fi.
For those more inclined to switch off then switch on, the hotel offers authentic Thai massages under palm trees on private beaches, the use of kayaks and snorkelling equipment and trips around the islands on a traditional long tail boat. Alternatively if you want to do precisely nothing, you've come to the right place.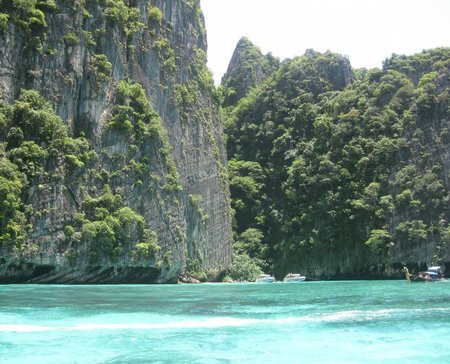 Where to eat
Ciao Bella is a great spot for lunch or dinner. While Thai is available, as the name suggests this is first and foremost an Italian restaurant, and the pizza and pastas are their speciality. Servings are generous, prices are reasonable and the service is especially friendly. You can't beat the location either, set right on Lo Dalam Beach; the views from your table are breath-taking.
But if it's more local delicacies you're craving, Papaya is the place to go (it'll be the one with queues of Thai's and tourists outside). However it's worth the wait - once you're in the food is delicious, the portions are huge and the prices are cheap. Besides, in Phi Phi you have all the time in the world. What's the rush?
Time for a drink
Phi Phi has an impressive helping of nightlife for such a small island and there is something for everyone. If it's a relaxed evening of music, beers and cocktails you're after, then head to Carlitos on Tonsai Bay. When the sun goes down the fire show begins, and it really is quite a spectacle. Mojito in hand - you can't go far wrong.
Alternatively, if you want to party all night on the beach with a bucket of booze, that's fine too, and many beach bars on Lo Dalam Beach offer just that. Take a walk through town and the party promoters will be sure to let you know where to go.
Where to shop
If it's designer outlets you're looking for, you've taken a wrong turn somewhere near Bangkok. However if handmade jewellery, wooden elephants and summer clothes that you'll probably never wear again are more your thing, you'll be in your element. You can wander the stalls which line the paths day or night and barter your way to a bargain.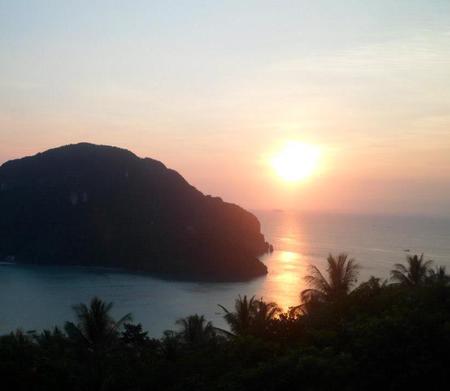 Don't miss...
A trip to Maya Bay on Ko Phi Phi Leh, uninhabited except for birds, bugs and few Maya Bay wardens. Extremely popular with tourists, you'll find many places on Koh Phi Phi Don offering trips over to the island, but this means it can get a little crowded during the day. For a more peaceful experience take an overnight camping trip where you will have dinner around the campfire before falling asleep under the stars. Waking up on this secluded island before the speed boats arrive is an experience you'll never forget.
Another must-see is the panoramic sight from 'the viewpoint' at sunset; the highest point on the island. Wait until it gets a little cooler and take a bottle of water. It's a demanding walk but once at the top you're sure to think it was worth every step.
The low down
From November Thomson Airways will be the only UK airline to offer flights direct to Phuket for the UK. Return flights from London Gatwick start from £579 per person, including taxes and charges. To find out more or to book, visit
thomson.co.uk
From the airport it's a short journey over to Phi Phi. Take a taxi or transfer to Phuket Pier when you can catch a regular boat service over to the island. The whole journey costs around £20 return.
Room prices at the Viking Nature resort start from £20 per night, dependent on season and availability. To book visit
vikingnaturesresort.com
FINDING A SPOT OF CALM ON A BUDGET IN PHUKET, THAILAND
SEEKING SOLITUDE AT SIX SENSES RESORT, THAILAND
BANGKOK CITY GUIDE: SURVIVING THE CRAZY THAI CAPITAL