If you're not up on your
iconic train journeys
across the globe, then let us enlighten you. The Blue Train is a luxury railway journey across South Africa, where guests wine, dine and sleep in opulence as they gaze at the breathtaking views that rush past their window.
So obviously we were chuffed to be invited aboard (all in a day's work). However by sheer dumb luck, it just so happened we were there the day the Blue Train engine caught fire, leaving us stuck in the desert overnight. Oh.
The trip is a bucket list train journey, and rightly so. Venturing 994 miles
across South Africa
, leaving Cape Town and bounding up towards Pretoria - it is quintessentially old fashioned (but in a good way) where you can gawp at stunning South African landscape from the luxury of your cabin.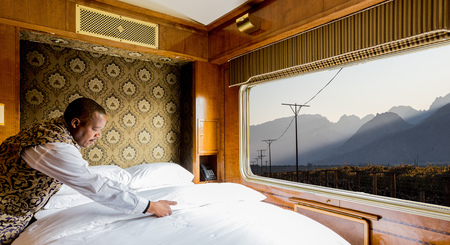 We boarded at Cape Town station and were shown to exceptionally cute cabin rooms - all old school opulence, with twin beds (which were big armchairs by day), and en suite bathroom. Each carriage shared a friendly and helpful butler, who was ready to bring you tea and whisk away your evening attire and steam it before dinner.
The train itself has dining and bar cars (all wood, brass and zebra cushions) and depending on the train, a glass observation carriage at the back. It made us giddy with excitement.
By mid afternoon we were well and truly moved in. A
few glasses of Champagne
, a hearty lunch and a book read in our carriage had us looking forward to a martini in the bar before our black tie dinner.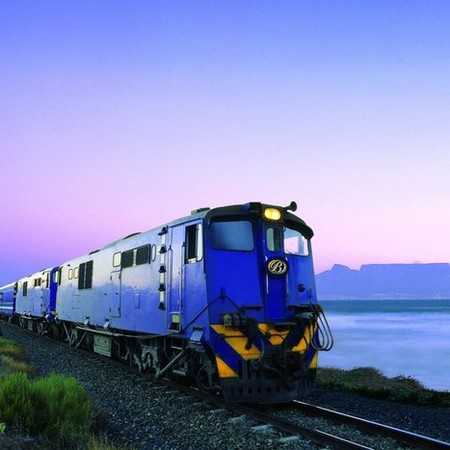 However, as we settled down for an afternoon nap (what, we're on holiday) the train ground to a halt and the announcement came to get off the train. Now. The butlers knocked from room to room instructing people that the train was on fire, leave your luggage and jump off.
The doors were flung open and people made the drop down onto the tracks below-using a combo of bar stools as make shift ladders and staff hoisting you out by your arm pits. Outside you could see, sure enough-the train was on fire.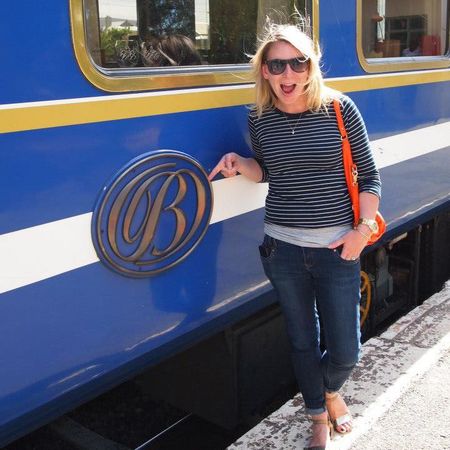 The staff rushed about, packing up suitcases from the rooms and dropping them on tracks below. Suit bags of evening wear were hung on the leg of an electrical pylon and dress shoes piled underneath.
As the shock subsided, it all started to become a bit more, well, comical. As only extreme and completely bizarre situations like that can. Chairs were dropped down out the bar for people to take a seat alongside the railway , as well as bottles of Champagne (and Cinzano - the crisis drink of choice) as guests laughed and drank together, surrounded by their suitcases.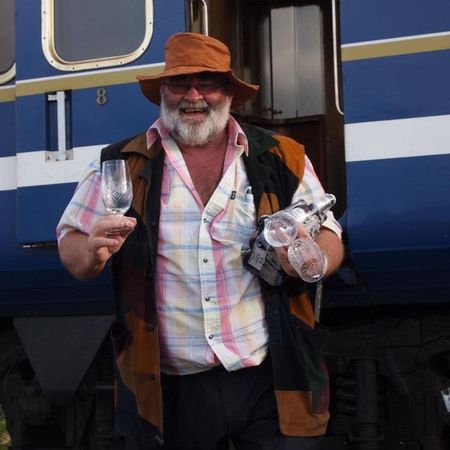 Thankfully, the engine had been decoupled from the rest of the train, leaving the carriages unharmed. However no other train could get near due to overhead cables being burnt, and despite attempts by a fire engine, the fire blazed on.
A bus was dispatched from Cape Town, but wouldn't be there until morning - so in the meantime it was a case of the show must go on and guests got back on board and continued their evening as planned - cocktails,
black tie dinner
and a good night's sleep stuck on a dusty track somewhere in South Africa. Like extreme camping in a luxurious tent.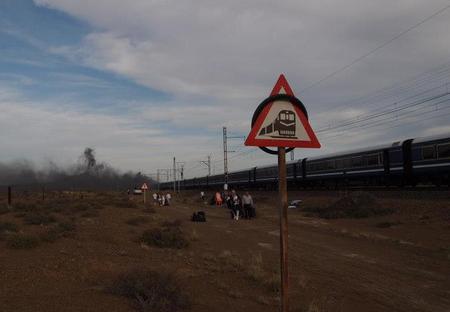 By that point we weren't expecting proper cooking, some sandwiches and another Cinzano probably would have done, but amazingly, the staff set to work preparing a delicious multi course meal including a
good beef wellington
(we'd love to tell you exactly how many courses, but we started drinking martinis with the slightly singed engineers before dinner time).
The staff were exceptional and everyone made the best of a bad situation before settling down to a night's sleep in our still lovely cabins.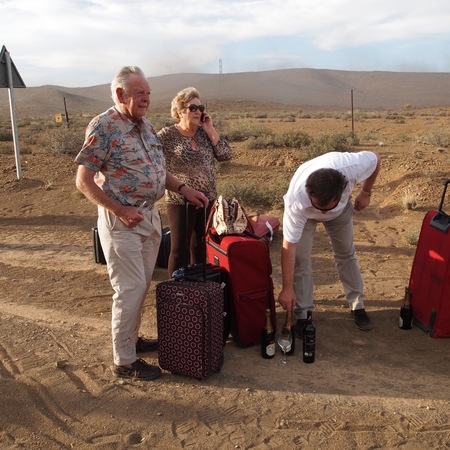 If you travel enough, eventually things go wrong. Planes get cancelled,
luggage gets lost
, reservations misplaced. Basically – s*** happens. But in all those situations – it's how the mess-up is handled that makes a difference.
Yes – it was far from ideal and disappointing. However the hard work of the staff and the part of
South Africa
we did see would not make us hesitate to try it all again. And if nothing else, we got an excellent dinner party story out of it.
Low down
Tickets from Cape Town to Pretoria (or vice versa) - one night, two days - with a free night at either end in one of their partner hotels from R12,280 (£778) per person, all inclusive in a Deluxe suite with en-suite bathroom and private butler. Call The Blue Train's UK office on 01403 243619, email
info@ethosmarketing.co.uk
or contact your preferred travel agent.
HOTEL REVIEW: FANCOURT, GARDEN ROUTE IN SOUTH AFRICA
HOTEL REVIEW: WINE TASTING AT STEENBERG, SOUTH AFRICA
MORE TRAVEL REVIEWS