Why go?
Everyone needs at least one holiday in their lifetime where they stay in a stilt hut over the sea. Add it to your bucket list right now. Do it.
Pangkor Laut is a
private island resort
just off the West coast in Malaysia. It can be reached by the resort boat (or helicopter of course) and once you're there – the only other people you'll see is hotel guests and staff. If you are looking for a
spot of escapism
– you've found it.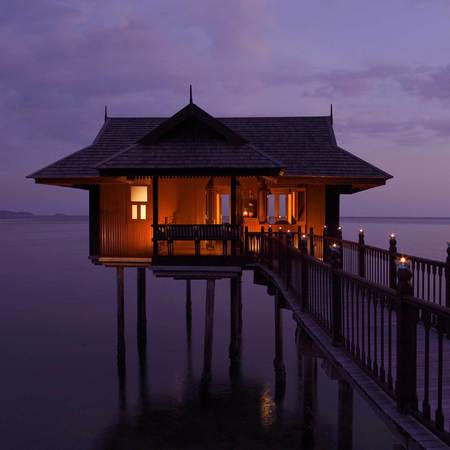 Sleep
The accommodation is luxurious, ranging from idyllic wooden huts over the water (where you can watch the monitor lizards, squids and shoals of fish swim around underneath) to houses dotted along the coast or high up on the island with
breath-taking views out to sea.
We stayed in one of the sea villas (pictured), a spacious one bedroom wooden home with a huge bed, massive bathroom with a sunken stone bath where you can open the windows and look at the view while you have dunk, and a terrace complete with sunbeds perfect for lazing.
Despite being in a maze of wooden huts, they don't overlook one another and you feel almost alone.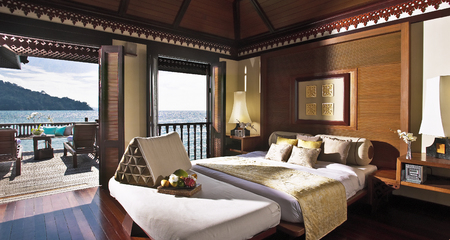 What to do
Whilst relaxing is the name of the game – it is not a low key resort. There are more staff than guests and the facilities on offer are extensive. Seven restaurants, two pools, a spa,
a private beach
, tennis court, squash court, gym, hiking trails, water sports, excursions, bar...you can do as much or little as you want.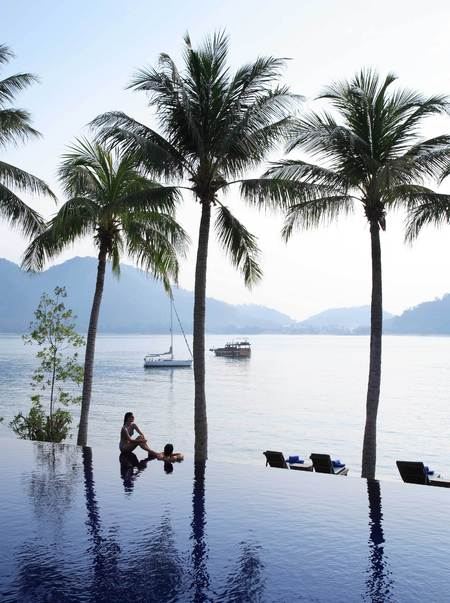 The
infinity pool
based in the centre of the resort is delightfully cool with stunning views over-looking a white sand beach and the ocean. Whilst you can't swim on this side of the island
due to the jellyfish
– the pool more than makes up for it.
If it's ocean swims you're after, a quick resort taxi up and over the island plonks you smack on one of the most idyllic and deserted
private white sand beaches
you are likely to find. Swimming here is lovely, and with sun loungers on the sand and waiter service from the restaurant on the beach keeping you topped up with
cool gin and tonics
– it's your own slice of celebrity living.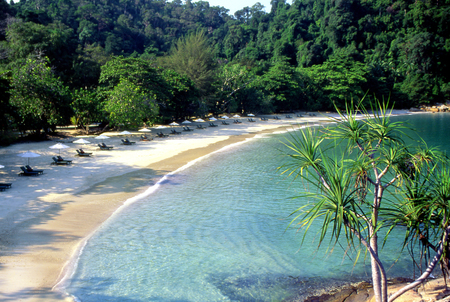 We recommend you take time out to visit the spa as well for their incredible bath house experience and massages.
Unlike anything we've done before, prior to your spa treatment you go through a cleansing ritual of bath houses – submerging yourself in a cold pool by yourself, visiting a Japanese bath house, followed by a green tea in a hot stone pool, before finally having a salt scrub down which prepares the skin (and let's face it, your mind) for your treatment. We would have done this every day.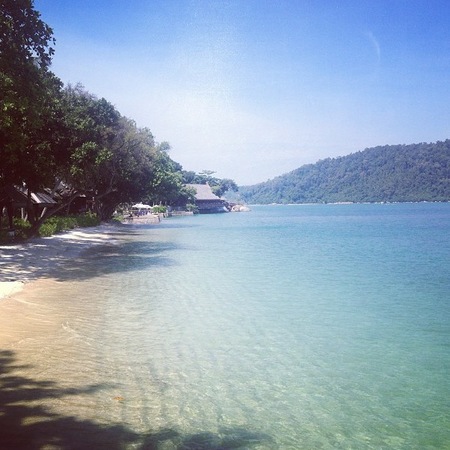 Eat
The resort has many dining options, all in palatial and well staffed restaurants. Our favourite was the fine dining seafood restaurant, Fisherman's Cove, overlooking the sea.
The seafood pyramid and a bottle of fizz are the perfect choice for the setting. If you are a seafood fan, also make sure you go to Jamu Bar for a sushi lunch.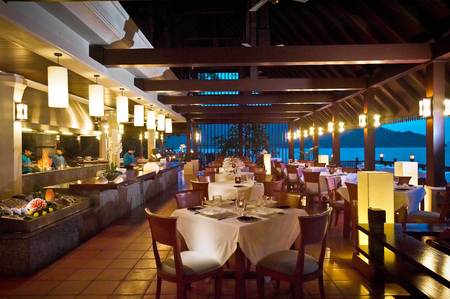 Or if you fancy a taste of Asia – Uncle Lim's Kitchen offers up delicious steamed fish, soups and curry dishes. Meanwhile there is the more typical family resort restaurant Feast Village (also where you have an epic buffet breakfast – lots of stations serving up everything from Prata, to noodles, congee, to your typical fried eggs and croissants). In the evening it serves a
Malay menu
including some tasting platters which were delicious.
However, if it is all out romance you are after - pull out the big guns and book a private, candle lit dinner on the beach. Just you, your loved one and a delicious menu served up under the stars on the sand. The stuff honeymoons were made for.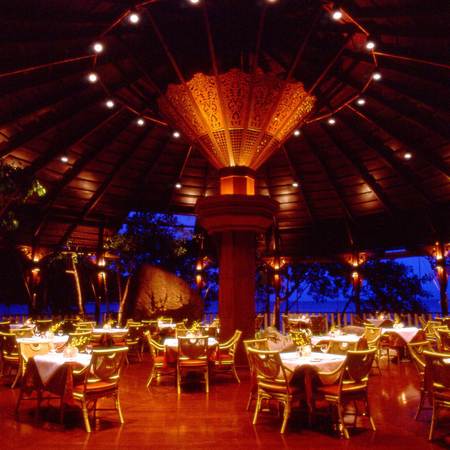 Low down
ITC Luxury Travel (01244 355 527;
itcluxurytravel.co.uk
) has prices from £1,489 per person based on 2 adults sharing a Garden Villa for 7 nights including daily breakfast, return economy class flights with Malaysian Airlines from London Heathrow and transfers. Dep Date 01 Dec 2014
Book a flight to Ipoh and then it is a one hour drive from there. A transfer directly from
Kuala Lumpur
by car will take three to four hours. Be prepared to wait at the marina – despite being a private island, the resort boats run on a schedule regardless of when your flight arrives and they don't wait. If you miss one, you may have to wait three hours for a boat or pay extra for the 10 minute trip.
RECHARGE YOUR BATTERIES IN JAMAICA
CAN YOU FIND PEACE ON A SILENT WALKING HOLIDAY?
MORE TRAVEL IDEAS