Why go?
Whether you are a New York virgin or consider the city your spiritual home, you already know you love the city.
The vibrancy, the food, the buildings, the grit, the delis, the shopping, how everyone is so achingly cool (
East London hipsters
don't got nothing on Lower East Side hipsters, where we speculate more beard trimmers are sold than anywhere else in the world).
We don't need to bestow the virtues of a trip to this wonderful town, you get it, but with hotels at a premium,
where do you stay?
If you consider yourself more of a Charlotte than a Carrie (sorry, SATC references are inevitable. You can not fight it.) then skip staying in a loft in down town TriBeCa and base yourself somewhere your Birkin will feel right at home – the Upper East Side.
Where to stay
The 5*
Surrey Hotel
is next to Central Park, just off Madison Avenue in the smarter part of town. You're so close to Central Park - above was the view from our bedroom window.
The hotel is modern (art-work-of-Kate-Moss-hanging-in-the-lobby modern) with a hint of the art deco about it. The outside is flanked with white flowers and a big awning, just like in the movies (if you've
not been to New York
before, get used to saying that a lot).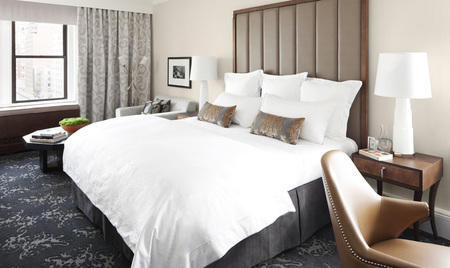 Rooms inside are plush and decadent. A huge bed awaits you, along with a swanky marble shower, a personalised bar and big windows to soak it all in.
In the summer months, the hotel boasts a rooftop bar with big outdoor sofas and views across the
rooftops of Manhattan
. It is on the same level as the penthouse – so you get the views and a gin & tonic without having to fork out a year's salary for the privilege.
There is also a good, dark bar closer to earth that mixes a mean negroni and a spa to recover from a day spent
shopping in Hermés.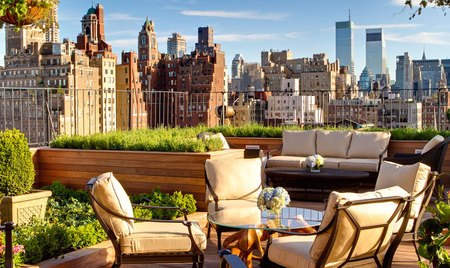 What to do
You're in New York; the list of things to do is endless. And that's even before we've got to grips with the excessive amounts of food that needs to be sampled.
Start off by just walking around. Everywhere. Roll out of bed and grab yourself a cream cheese & salmon bagel and head straight into Central Park. Walk to the Bethesda Fountain and enjoy breakfast with all the New Yorky stuff happening. When we were there, a group of old women were doing a workout in towelling tracksuits and Spike Lee turned up to shoot a film.
One of our favourite walks was down the High Line, then round the Meat Packing District and all the way down Bleecker St. En route be sure to buy sunglasses at Warby Parker, eat a cupcake at Magnolia Bakery and browse the books at Book Marc.
More things to do (there's too much, we're just making lists now):


Go up Top of the Rock instead of Empire State – less queues and you get to look at the Empire State Building from on high


Walk round Little Italy and stuff your face on cannolis and espresso


Go over the Brooklyn Bridge and take a wander off the island


Take a trip on the Staten Island Ferry and back again – it's free and offers great views of the Statue of Liberty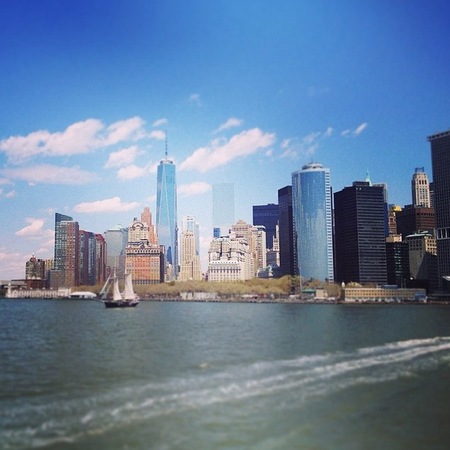 Eat and Drink
Everyone has a favourite place to eat and drink in New York, and after four days you'll feel like you have barely scratched the surface.
Unlike a lot of cities, the standard of food is very high and there is a feeling that wherever you ate, you'd be happy. Well, as Carrie points out (second SATC strike) apartment ovens are used for storing sweaters, and eating out is a way of life. You can't afford to let your standards slip here.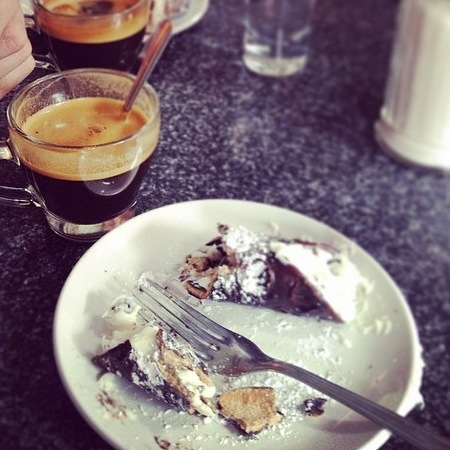 So here's a list of just a few places we stuffed our faces:
Gah – there are too many places. Just take stretchy pants and welcome the weight gain.
Make sure you take in a speakeasy bar while you're there like
PDT
and head over to the
Wythe Hotel
in Williamsburg for a drink on their roof terrace over looking back the city.
Once you're done with being cool, there's a sports bar round the corner that serves White Russians by the pint and plays Britney Spears songs while you shoot hoops. After that the night becomes blurry, all we remember is drinking cocktails out of tea cups in a bar that looked like our Nan's living room. That's New York.
Low Down
British Airways offers three nights at the 5* The Surrey, Room Only, from £1099 per person, for travel 20 - 31 August. Including return World Traveller flights from London Heathrow to New York. Book by 31 August.
For reservations visit
ba.com/new-york
or call 0844 493 0758
PRIVATE ISLAND LIVING IN MALAYSIA
CAN YOU FIND PEACE ON A SILENT WALKING HOLIDAY
MORE HOLIDAY IDEAS